黑色臭豆腐:解开你所有的疑惑
BLACK STINKY TOFU: all your questions answered
2023-06-20
翻译加工厂
12976
16
3
收藏
纠错&举报
译文简介
湖南省会——长沙是臭豆腐的天堂,游玩了这座城市之后,我相信你也会像我一样爱上臭豆腐的。
正文翻译
每人一小段,翻译我也行!
每日新素材,等你来认领! https://www.ltaaa.cn/translation
-------------译者:Airam--- 审核者:龙腾翻译总管------------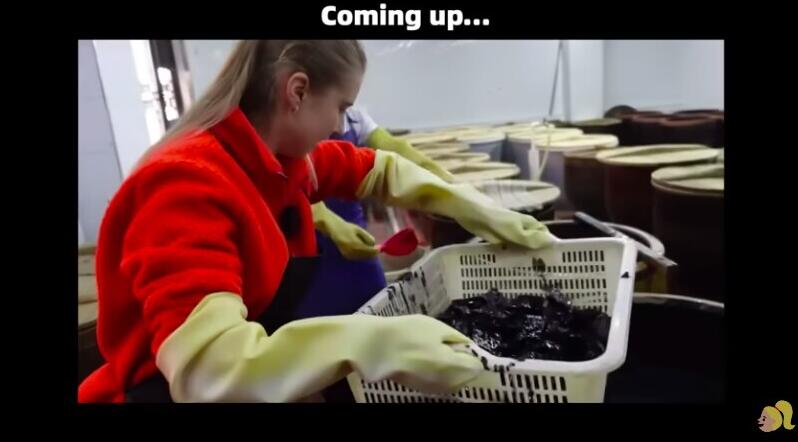 hangsha, the capital of Hunan province, is a black stinky tofu paradise and after visiting this city, I''m sure you''ll fall in love with it, just like I did.
湖南省会——长沙是臭豆腐的天堂,游玩了这座城市之后,我相信你也会像我一样爱上臭豆腐的。
原创翻译:龙腾网 http://www.ltaaa.cn 转载请注明出处
评论翻译
-------------译者:qcnh01--- 审核者:龙腾翻译总管------------

E Liew
I''m a Chinese who doesn''t enjoy stinky tofu. But THANK YOU so much for showing my food culture the respect that it deserves. I hate it when western youtubers visit a country and show the ''gross'' food people eat there, turning their noses and making gross faces at other people''s cultural cuisine. It''s disrespectful and insulting. It is so refreshing to see a western face enjoying traditional Chinese cuisine, I''m learning so much about Chinese food from you. Keep it up!

我是中国人,虽然我不喜欢臭豆腐,但是非常感谢您尊重我们的美食文化
我很不喜欢西方一些YouTuber去到一个国家,展示当地人吃的"恶心"食物,并嗤之以鼻,做出一些恶心的表情来嘲笑当地人的文化美食,这属于侮辱不尊重
看到一个西方人喜欢传统中国美食,真是让人耳目一新。我从您身上学到很多关于中国美食的知识,希望你保持下去!
V
Hi Amy???
Thank you so much for taking us to the kitchen and explore the steps in making stinky tofu! Such hard work you and the gentleman put into! It's so fascinating to see so many different perspectives of Changsha. Wish I could visit some day! As always, love watching your channel, looking forward to seeing more! Cheers!

嗨,Amy!非常感谢你带我们进入厨房,探索臭豆腐的制作步骤
你和那位先生花了很多心血!在长沙看到很多不同的视角,很有意思
希望有一天也能够去那里参观!一直喜欢你的频道,期待更多精彩内容!干杯!
-------------译者:Airam--- 审核者:龙腾翻译总管------------
Yu Zou
I have so many friends who love cheese but refused to try fermented tofu. Until I kinda forced them to try, they fall in love with tofu. We really should keep our mind open when it comes to food.

我有很多朋友都很喜欢吃奶酪,但都不想尝试臭豆腐。直到我拉着他们去试一下,他们才爱上吃臭豆腐。对于食物,我们真的应该保持包容开放的态度。
Stephen White
I love the smell and flavour of blue chees and aged cheeses. It took a little bit to get used to it, so I'm sure I could learn to love this, too.

我喜欢蓝纹奶酪和陈酿奶酪的香味。我吃了一段时间后就适应这两个的味道,所以我很肯定我也会爱上黑色臭豆腐的味道的。
Alex Chang
Just shared an information with Amy: The odour of skatole depends on its concentration. At low concentrations, skatole actually has a rather nice, sweet smell; it crops up in orange blossom and jasmine in small amounts. It''s also used by Zantedeschia aethiopica. Skatole is from breakdown of the amino acid called "tryptophan". That is why sometimes these stinky Tofu smell good.

我刚好和Amy分享说:臭豆腐的气味取决于它的浓度。在低浓度时,臭豆腐实际上味道还不错,是香甜的,会闻到一股淡淡的橙花香和茉莉花香。它同样也可用于养颜护肤。吲哚是由一种叫做"色氨酸"的分解出来的。这就是为什么有时候臭豆腐闻起来很香。
-------------译者:qcnh01--- 审核者:龙腾翻译总管------------
原创翻译:龙腾网 http://www.ltaaa.cn 转载请注明出处


James Yao
The first time I tried black stinky tofu was when I visited Wuhan with my girlfriend, it''s YUM and really worth trying! Now I''m in Australia and she''s in China, and we''ve been apart for 5 years.

我是和女友去武汉旅游时,第1次吃的臭豆腐,真的非常好吃,很值得一试!现在我在澳大利亚,她还在中国,我们已经分开五年了
WC
Don''t knock it until you''ve tried it. I''ve had it for the first time in Changsha in 2019. It was amazing. It''s like eating fermented cheese or durian, either you like it or you don''t. It''s amazingly fragrant to me.

你要先尝过才能发表看法啊,我第一次在2019去长沙时吃到臭豆腐,真是太好吃了!就像发酵的奶酪或者榴莲,这口味要么非常爱,要么非常讨厌。不过对我来说,香味简直惊艳
Moebym
I used to turn my nose at stinky tofu until I finally tried it. Like the saying goes, "don''t knock it till you try it!" It makes an excellent addition to rice porridge.
Also, my maternal grandfather''s ancestral homeland was Hunan Province, which I''ve yet to visit. I would love to visit it one day to connect with my roots and taste the local cuisine.

我以前看不上臭豆腐,直到我最终鼓起勇气品尝一口,就像那句话:"没吃过怎么知道好坏",这玩意很适合放入米粥一块吃
另外,我外婆祖籍湖南,可我从从都没去过那,希望有一天能去那里,拜访自己的祖籍,品尝当地美食
-------------译者:qcnh01--- 审核者:龙腾翻译总管------------
ARKADE YELLOW
You are living the good life! Thanks for showing everyone what everyday China is like. And the gentleman showing you how to make it is exactly what most Chinese are like. Happy and kind. Stinky tofu is delicious. Keep up the good work.

你的生活太美好了!感谢你向大家展示中国的日常生活
教你做臭豆腐的那位先生,就是大部分中国人的样子:开心友善。臭豆腐很好吃,继续加油
Jingyu Zheng

Glad to see Amy still leveling up her Chinese speech skill! And it feels so great to me (who''s from beijing) when I heard you added 儿化音 to "有一点儿臭", I felt so 熟悉 和 陌生 at the same time lol.
很高兴看到Amy还在提高中文口语水平!当我听到你说"有点儿臭"这句话加入儿化音时,我好开心,觉得熟悉又陌生(我是北京人),哈哈
JisooFleur
so the brine is actually sort of yummy scientific sauce that makes the tofu flavorful and the stinky smell of it will be removed while cooking. Thank you Amy for this trip, when I was a kid,my mum didn't want me to eat so much stinky tofu, she told me it comes from the toilet

卤水是一种味道很好的调料,它让豆腐变得更香,同时去除豆腐的异味
感谢Amy的这次旅程,小时候我妈妈不想让我吃太多臭豆腐,她告诉我臭豆腐是从厕所里捞出来的
-------------译者:qcnh01--- 审核者:龙腾翻译总管------------
Blondie's Dad #johnwalkstheworld
You are quickly becoming a great documentarian! My favourite one at least

你的短视频创作越来越好了!至少是我其中最喜欢的创作者之一
Kaichen Tang
I just came back to China from Australia, and I am going through your videos to get some ideas of what food should I try before I go back to Australia. Stinky tofu is definitely on my food list now!

我刚从澳大利亚回到中国,现在正通过你的视频来寻找灵感,我想在回到澳大利亚之前,去品尝一些中国美食。 臭豆腐绝对进入我的食品清单了
fianorian
I have always wondered what it was like. I must say that I''m not a fan of tofu, in any form, but it''s interesting to know that once cooked, it''s not as stinky.

我一直很好奇这东西是什么样子
我得说,我不喜欢任何一种豆腐,但有意思的是,一旦煮熟它的味道就没那么臭了
Dave Psk
I''m no Chinese born stinky tofu eating guy. But, I do live in asia today and have tried it once before when someone brought it to a stall around cny last year and I must say I did try it for the fun of it and I liked it.
Apart from the smell wafting even 100 meters from the stall, it''s really very good.
The waiting line was also long.

我不是土生土长的中国人,也不太爱吃臭豆腐,但我现在住在亚洲,去年在春节期间,经过卖臭豆腐的路边摊,出于好奇,我尝试了一下,意外地喜欢上了这道美食
虽然100米外都能闻到摊位传出的气味,但它的味道却很香。排队买的人也很多
-------------译者:qcnh01--- 审核者:龙腾翻译总管------------
xiaochen Wu
Stinky toufu is one of my favourite street food in China. I travelled to Changsha for a couple of times, and I really fell in love with smelly food. In my hometown Harbin, we have other forms of stinky toufu, which is yum as well.

臭豆腐是我在中国最喜欢的街头美食之一。我去过长沙几次,爱上了这种有味道的食物。在我的家乡哈尔滨,我们也有其他类型的臭豆腐,味道也很好
Samkee007
The black stinky Tofu is indeed pretty good and I had 2 bowls back to back when I was in Xi''an in 2017. I will definitely going to Changsha next time...

那种黑色的臭豆腐实在是太好吃了!我在2017年去了西安,一口气吃2碗。下次我一定要去长沙尝尝看
CBN
Chang Sha is my home town and also grown up with the stinky black tofu. It was awesome to see you travel down just for it! Hopefully you tried some other chili dishes as well!

长沙是我的家乡,我也是吃臭豆腐长大的。看到你专门为了品尝它而来,真是太棒了!希望你也尝一些其他好吃的辣味!
Ningbo Flyer
In my hometown Ningbo, the stinky tofu was mostly the light yellow version, and was not stinky at all. It was only in recent years that the black stinky tofu had been introduced. By the way, Amy you could consider going to the border area in China, and then cross the borders to neighbouring countries to make foodie videos (Ah, of course excludes countries listed on smarttravllers as DO NOT TRAVEL). There are many ethnical minorities there, it will definitely been quite interesting.

我老家宁波,臭豆腐通常是浅黄色的,完全不会有臭味。直到最近几年才开始有黑色臭豆腐。
顺便说,Amy可以考虑去中国边境地区,然后在边境的邻国拍美食视频(当然,排除smarttravllers网站上列为勿去的国家),那里有许多少数民族,一定会很有趣的
-------------译者:qcnh01--- 审核者:龙腾翻译总管------------
Ronnie Chew
I actually get to try this once out of curiosity near my home in Penang. The smell is bad only during the frying but it taste good when I ate it. I can''t make any comparison as I''ve never tried it anywhere else. It doesn''t really make me wanting more as normal fried tofu is also nice. Saw a shop in Ipoh but it was not open when I visited and I wouldn''t mind testing more. Just don''t breath when they are frying it

我曾经出于好奇,在马来西亚槟城尝过这种臭豆腐
炸的时候味道确实很重,但是吃起来却很香。我没跟其他地方的臭豆腐作过比较,不知道是不是最好吃的
我也并不是很想再去吃,因为普通的炸豆腐也很好吃啊。我在怡保看到一家店,但是我去的时候他们没有营业,我还是很想再尝试的
不过,记得在他们炸豆腐的时候要屏住呼吸
Simon Verhoeven
Thank you for the behind the scenes look, and explaining more about how it''s made. You also made me curious: can you actually order some of that 66 year old stinky tofu?

谢谢你让我看到臭豆腐的制作过程,并解释了更多相关的信息
不过我有点好奇,现实里真的能买到那种已经发酵66年的臭豆腐吗?
jing zou
Congratulations to Amy on having a Chinese stomach so that you can really taste the delicious food from all over the world.

恭喜Amy有"中国胃",并且品尝世界各地的美食
骑乐无穷
I didn''t dare to try the stinky tofu before because the smell was so strong and the black color was so suspicious. Now I understand the black color is from mushroom, bamboo shoots, black beans and zisu, I may give it a try next time I have a chance. Thanks a lot for your adventure and share with us. You are so brave. BTW, did you have to wash your cloth first thing you went home that day?

以前我不敢尝臭豆腐,因为它太臭了,而且黑黑的看起来让人怀疑
现在我知道发黑是来自蘑菇,竹笋,黑豆和紫苏,下次我有机会试一下
非常感谢你的分享试探。你很勇敢!顺便问一下,那天晚上你回家后,第一件事是不是洗衣服?
-------------译者:qcnh01--- 审核者:龙腾翻译总管------------
Lukee Cle
Great video, the world needs more people like you, positive, friendly, hard working and lovely

好视频啊!世界需要更多像你一样积极、友好、努力和可爱的人
Jing Lu
Love this video! My first encounter with stinky tofu was in Shaoxing, unfortunately I didn''t dare to try at the time. Now after watching your video, I''m really curious to give it a try. Thank you for being a Chinese food ambassador!

喜欢这个视频!我第1次接触臭豆腐是在绍兴,可当时我不敢尝试
看了你的视频,我很想尝一尝。谢谢你成为中国美食大使
K M Miller
Great video Amy ! I have eaten stinky tofu before and like it except the ultra strong ones in a Chengdu restaurant but never the Black ones , it will be a must try next time I go to China .Cheers

Amy的视频不错!我之前吃过臭豆腐,除了在成都的一家餐厅里吃到的那个超级臭之外,其他的我都很喜欢
不过我从来没有尝过黑色的臭豆腐,下次去中国我一定要尝试一下!干杯!
Major Calvary
I love all the stinky tofu in Taiwan. I definitely want to try this too.

我超爱台湾的臭豆腐。我一定也要尝一下!
Tom
Amazing video as usual. Thank you for all the effort that goes into these videos

做的视频和往常一样好。感谢你努力作这个视频!
-------------译者:qcnh01--- 审核者:龙腾翻译总管------------
winterburden
That''s so cool! Please share more stinky foods!

很酷!请跟大家分享更多重口味美食
Araf''s Adventures
I''ve never experimented with tofu a lot, but since in China I might now

我之前很少吃豆腐,但既然在中国,现在打算多尝试一下
kcleung888
Your food travels all over China is astounding not even Andrew Zimmer from Bizarre Foods on TV Discovery Channel can match your YouTube Videos !!

你发掘中国各地美食的经历很不错啊,连上电视探索频道的节目主持人Andrew Zimmer的《奇异食物》也比不过你的视频!
曹永晅Jerome Tso Wing Huen
Stinky tofu not is one of my favorite food of all, due to its strong smell, but this one is black, very special.
And this is fascinating to know the making process of it too.

臭豆腐不是我最喜欢的食物之一,因为它味道太重了,但这种黑色的豆腐很特别。而且了解它的制作过程也很有趣
MrVectrexUK
Very interesting and entertaining food video today, thanks so much for posting - on first glance, as you say, the stinky tofu doesn''t look or sound appealing, but it just goes to show that you shouldn''t judge food by it''s appearance (or smell)!

今天的美食视频很有趣,非常感谢
就像你说的,乍一看臭豆腐,闻起来都不讨人喜欢,但这就说明我们不应该以外表(或者气味)来评价食物!