话题讨论:超级大国竞相发展微芯片产业 part2
Rival superpowers race to boost microchip industries | DW Business
2023-01-14
碧波荡漾恒河水
13572
0
2
收藏
纠错&举报
译文简介
它正在成为超级大国竞争的主要战场。争夺全球电脑芯片供应主导权的竞赛正在展开。全球半导体短缺表明了半导体对全球经济的重要性,而美国决心控制这一局面。
正文翻译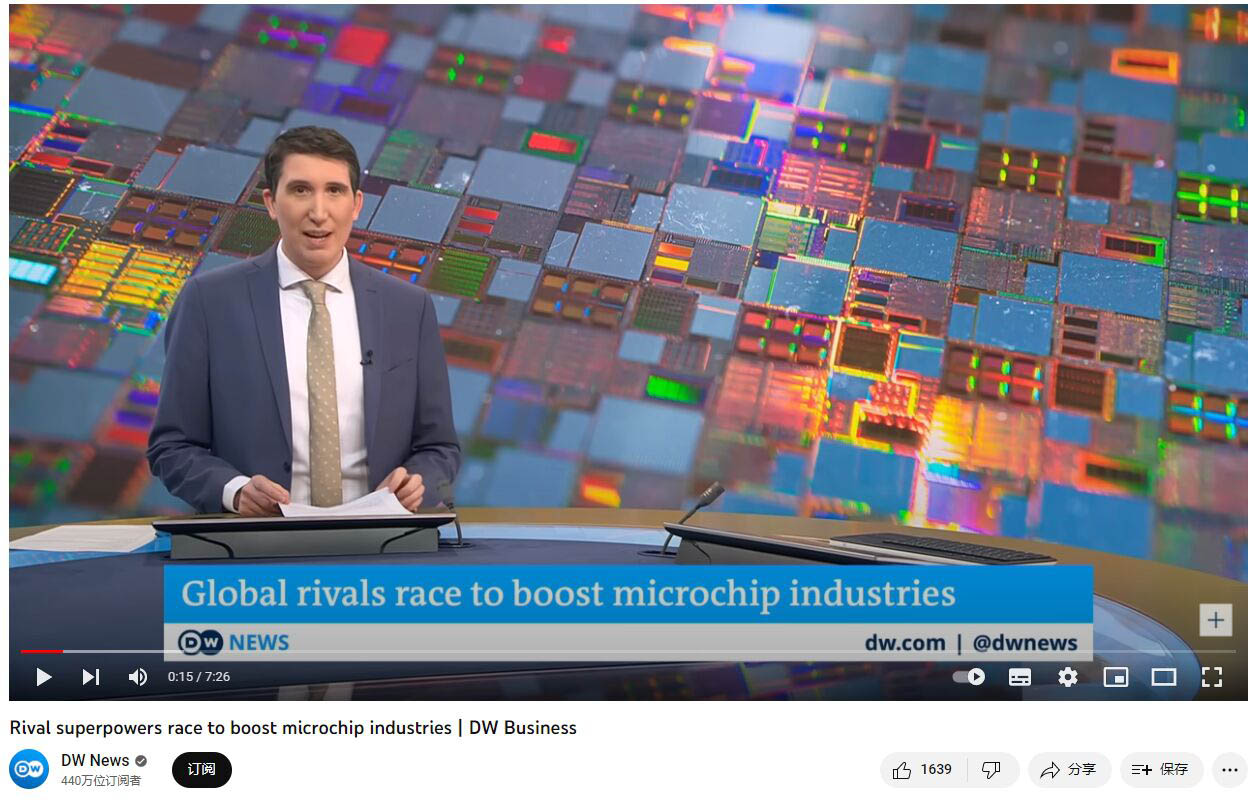 It's becoming a major battleground for rival superpowers. The race is on to secure dominance of the world's supply of computer chips. A global shortage of semiconductors has shown how important they are to the global economy - and the US is determined to take control.
它正在成为超级大国竞争的主要战场。争夺全球电脑芯片供应主导权的竞赛正在展开。全球半导体短缺表明了半导体对全球经济的重要性,而美国决心控制这一局面。
评论翻译
@nlabanok
Well, having worked for one of the semiconductor behemoths for 20 yrs, much of it on the R&D side, most of those 8000 scientists are dedicated to R&D projects with incremental technology / economic payoff but with higher likelihood of success (and are often distracted with problem solving needs for existing technology). Relatively fewer are dedicated to high technology/economic payoff with low prospects of success or potentially very long leadtime to implement. These smaller, pure R&D firms can focus on these underinvested projects and physical limits without the distraction of getting pulled into current generation problem-solving. In the end, the exit strategy for the successes among these small firms is acquisition by a behemoth or a prime position as a key supplier to the industry although always leaving the mind open to a real breakthrough solution that becomes a true threat to the behemoths.

好吧,在为一家半导体巨头工作了20年,大部分时间都在研发方面,8000名科学家中的大多数都致力于研发项目,这些项目具有增量技术/经济回报,但成功的可能性更高(并且经常被现有技术的问题解决需求分散了注意力)。相对较少的人致力于高技术/经济回报,成功的前景很低,实施的时间可能很长。这些规模较小的纯研发公司可以专注于这些投资不足的项目和物理限制,而不会被卷入解决当代问题中。最后,这些小公司成功的退出策略是被大公司收购或成为行业的主要供应商,尽管始终保持开放的心态,以寻求真正的突破性解决方案,成为对大公司的真正威胁。
@josephdonais4778
"Between superpowers", head stuck in the Soviet era? There is no between when the count is one.

"超级大国之间",脑袋还停留在苏联时代? 只有一个超级大国,所以没有"之间"。
I do wonder what would have happened if by some strange circumstance, the US insurrection had succeeded, how it's military would have responded.

我很想知道,如果美国的叛乱成功了,会发生什么,它的军队会如何回应。
It does not follow unlawful commands from the individual soldier to it's Commander in Chief, the President and the military is duty bound under oath to protect the Constitution. I would hope that I have answered my own question but for the lawlessness in Congress.

它不遵循从士兵个人到总司令的非法命令,军队有义务宣誓保护宪法。如果不是国会的无法无天,我希望我已经回答了自己的问题。
@crosstraffic187
Remember the General standing next to Trump when suppressing a demonstration at Lafayette square?

还记得拉斐特广场镇压示威游行时站在特朗普旁边的将军吗?
@CHMichael
Who will master the next step?
By the time the facilities that are being built now a new generation of manufacturing will have arrived.

谁将掌握下一步?
到现在正在建设的这些设施的时候,新一代的制造业将已经到来。
@xenoneuronics6765
I worry we've entered an era of computing scarcity. No longer just for office work or gaming. As computing power becomes more valuable, the way it did with crypto, people will rush to buy up every flop. Pushing the majority of the computing power into the hands of the wealthiest.

我担心我们已经进入了一个计算稀缺的时代。不再只是为了办公室工作或游戏。随着计算能力变得越来越有价值,就像加密货币一样,人们会争先恐后地收购每一个浮点。将大部分计算能力推到最富有的人手中。
@gudnikristinn
Taiwan is also building a chip manufacturing plant in the US with USAs help now.

在美国的帮助下,台湾现在也在美国建造一家芯片制造厂。
If China invades Taiwan, than equipment and expertise will be evacuated and the war would likely destroy a lot also.

如果中国大陆入Q台湾,设备和专业知识将被撤离,战争也可能会摧毁很多东西。
There is a high chance China would not be able to just take all of Taiwan's assets

中国大陆很有可能无法拿走台湾的全部资产。
@JigOfTheDubGopher
I agree. Very well explained (from a retired electronics/photonics microchip designer).

我同意。非常好的解释(来自退休的电子/光子学微芯片设计师)。
@waynegore5291
Chip recession is already here, no longer in shortage. Ask micron, amd, intel.

芯片衰退已经到来,不再短缺。问问美光、amd和英特尔吧。
@aliasalias8681
Quantum computers are totally worthless. Usually not even logically capable of the applications people assert they would revolutionize. Not to mention the nonexistance of even a hypothetical algorithm that does literally anything useful, then even if you hypothetically had such an algorithm there is the enormous hurdle of getting it to reliably and efficiently outperform a current computer to demonstrate quantum advantage in a cost effective manner. It's all hype.

量子计算机毫无价值。通常情况下,人们声称他们将彻底改变的应用程序在逻辑上都无法实现。更不用说,甚至没有一个假设的算法可以做任何有用的事情,那么即使你假设有这样一个算法,也存在巨大的障碍,让它可靠而有效地超越当前的计算机,以经济有效的方式展示量子优势。这都是炒作。
...Sorry, I got distracted from the video content when I heard them use quantum computing as a reason for somethings importance. If Quantum computing is a reason for the importance of anything it is vetting VC capital and governmental research so it isn't squandered on hype if not outright fraud. Nothing else.

……抱歉,当我听到他们将量子计算作为一些重要事情的理由时,我从视频内容中分心了。如果量子计算是任何事物重要性的一个原因,那么它就是在审查风险资本和政府研究,这样它就不会浪费在炒作上,甚至是彻头彻尾的欺诈的话。什么都没有。
@jondoe1622
Would you care to define winning?

你想给胜利下个定义吗?
原创翻译:龙腾网 http://www.ltaaa.cn 转载请注明出处


@BorderKeeper
This video is a nice example of missing the marks. You spent so long explaining some kind of a startup with limited FAB capability and granted interesting theoretical tech, but you could have spent that time explaining the ecosystem of microchip manufactre. Not once was Taiwan or TSMC mentioned, not once did you mention EUV. The truth as I see it is the supply chain from people who make the optics in Europe, to the people who make the dies in Japan, to the people who do the machines in America, through the people who make the actual chips in Taiwan (ignoring Samsung and Intel). This whole global supply chain is a marvel of modern technology, economics, and cooperation that plans way ahead than what any government can plan and sure they will jump on the money train but Taiwan will not build a TSMC EUV litography factory in the US. Many countries in the past tried boosting their microchip industry and failed it's not just about the money, it's not building cars.

这个视频就是一个很好的下笔千言离题千里的例子。你花了这么长时间来解释一家FAB能力有限的初创公司,并授予了有趣的理论技术,但你本可以花这些时间来解释微芯片制造的生态系统。没有一次提到台湾或台积电,没有一次提到EUV。在我看来,真相是供应链,从欧洲制造光学器件的人,到日本制造模具的人,到美国制造机器的人,再到台湾制造实际芯片的人(忽略三星和英特尔)。整个全球供应链是现代技术、经济和合作的奇迹,比任何政府的计划都要早得多,而且肯定他们会跳上金钱列车,但台湾不会在美国建造台积电EUV光刻工厂。过去,许多国家试图发展他们的微芯片产业,但都失败了,这不仅仅是钱的问题,也不是制造汽车的问题。
TL;DR this is a poorly researched video that is overly simplified and the time it has to help people explain the topic it uses to showcase a startup that has little to do with the problematic. If you want good overview of the whole ecosystem go watch Asionametry channel instead.

这是一个研究不足的视频,过于简化,它不得不花时间帮助人们解释它用来展示一家与问题无关的初创公司的主题。如果你想了解整个生态系统,可以去看Asionametry频道。
@KalanYore
It is not a security issue so much as having the sanctions is to cut off targeted nations is forcing them to develop their own and not rely on former trade partners or from unfriendly nations.

这不是一个安全问题,因为制裁是为了切断目标国家的联系,迫使他们自己发展,而不是依赖以前的贸易伙伴或不友好的国家。
@georgekung2003utube
of course, US. people will use 3nm from US instead of 14nm chips from China

当然是美国。人们将使用美国的3纳米芯片,而不是中国的14纳米芯片。
@user-oi3yb7mm7h
Never look down upon anyone;
each individual has their own strengths.
Put your heart into everything that you do.
Adjust your mindset and direction
to make sure you are on the right track.

不要小看任何人;
每个人都有自己的长处。
做任何事都要用心。
调整心态和方向,
确保自己走在正确的道路上。
@rursus8354
Maybe quantum computers are the bubble memories of the 21th century! Anybody who remembers how the bubble memories conquered the world!? ... Not me either.

也许量子计算机是21世纪的泡沫记忆! 有人记得泡沫记忆是如何征服世界的吗?……我也不记得。
@tjp6tw
Make sure those Chinese people in the team are not affiliated/associated to the Chinese Communist party, especially especially those still have close family members in China

确保团队中的中国人与中国政府没有关联,尤其是那些在中国有亲密家庭成员的人。
@robertw1800
Finally found a comment stating exactly what I thought. Thought people would think it would be racist even though it's happened already.

终于找到了一条评论,完全符合我的想法。我以为人们会认为这是种族歧视,尽管已经发生了。
@pauldannelachica2388
A nation that have Ai and advanced microchip are more efficient and powerful to business economic autonomy

拥有人工智能和先进微芯片的国家,对企业经济自主的效率和力量更大。
原创翻译:龙腾网 http://www.ltaaa.cn 转载请注明出处


@bertnijhof5413
The crucial tool for the world chip industry is still produced in the EU, by ASML in Eindhoven the Netherlands. They produce the lithography machines that determine how small you can make the transistor on the chip 7nm; 5nm or 3nm. They have a technical monopoly and sell to Samsung; TSMC and Intel. The USA has forbidden to export the latest generation of ASML machines to China. At last the USA shows to the world, that capitalism is not about globalisation and competition for the good of all, but about controlling monopolies for the good of the USA. The EU clicks their heels and obeys (Hacken zusammenschlagen und gehorchen).

全球芯片行业的关键工具仍在欧盟生产,由荷兰埃因霍温的阿斯麦生产。他们生产的光刻机决定了你可以在7nm芯片上制造多小的晶体管;5nm或3nm。他们有技术垄断,卖给三星、台积电和英特尔。美国已经禁止向中国出口最新一代的ASML机器。最后,美国向世界表明,资本主义不是为了所有人的利益而全球化和竞争,而是为了美国的利益而控制垄断。欧盟则乖乖听话。
@jfprizzy
And Samsung, TSMC and Intel don't care if ASML has a technical monopoly on it, because it's by design of the overall complex supply chain that is semiconductor fabrication. There is no scenario in which ASML would leverage that monopoly to spite the big 3 semiconductor fabs, because it'd be shooting yourself in the foot and killing relationships with companies that make up 90% of your revenue. The ASML business model is to drive R&D to continually improved such machines and sell to only these 3 customers, because there is no one else.

三星、台积电和英特尔并不关心阿斯麦是否在技术上处于垄断地位,因为这是半导体制造整个复杂供应链的设计。在任何情况下,阿斯麦都不会利用这种垄断地位来对付三大半导体工厂,因为这无异于搬起石头砸自己的脚,并破坏了与那些占你收入90%的公司的关系。ASML的商业模式是推动研发不断改进这样的机器,只卖给这三个客户,因为没有其他人。
@ggsay1687
China isn't open capitalist nor communist, so it's fare.

中国既不是开放的资本主义国家,也不是共产主义国家,所以这很公平。
@Writeous0ne
China has already made 7nm and 5nm. All they have to do is get hold of tech and reverse engineer it OR get people who uses to work as engineers for those technologies to do so, which they have done.

中国已经制造了7nm和5nm。他们所要做的就是掌握技术并对其进行逆向工程,或者让曾经作为这些技术工程师的人这样做,他们已经做到了。
@antonfriberg881
@@jfprizzy Just want to add that the three companies all own stock significant stock in ASML so this is an additional reason for why it will never happen

我只想补充一点,这三家公司都拥有阿斯麦的大量股份,所以这是为什么它永远不会发生的另一个原因。
@genuinennessbefitting4734
If euv is the key to manufacturing advanced chips, Samsung, Intel, and other companies can buy euv without hindrance; why is tsmc the only company that can produce 3nm? What's more, ASML's first large order came from TSMC, and euv developed jointly using tsmc's wet immersion technology at tsmc's F12b headquarters in Hsinchu, Taiwan. tsmc invested 1 million wafers and billions of dollars in completing euv research and development.

如果euv是制造先进芯片的关键,三星、英特尔和其他公司可以毫无阻碍地购买euv;为什么台积电是唯一能生产3nm芯片的公司? 更重要的是,ASML的第一个大订单来自台积电,euv在台积电位于台湾新竹的F12b总部使用台积电的湿浸技术联合开发。台积电投资100万片晶圆和数十亿美元完成euv研发。
@szurketaltos2693
@@jfprizzy those aren't the only 3 that need lithography, but they are the ones at the leading edge right now.

并不是唯有这三家需要光刻技术,但它们目前处于前沿。
@openleft4214
Not sure why your bring capitalism into this.

不知道你为什么要把资本主义扯进来。
@xenoneuronics6765
You can't play capitalism on a level playing field if it isn't level. Sometimes a bit of leveling needs to be done

如果在一个不公平的游戏场,你就不能搞资本主义。有时候需要做一些调整。
原创翻译:龙腾网 http://www.ltaaa.cn 转载请注明出处


@terryarmbruster9719
Exactly. Watched videos about that. China can't seem to reverse engineer it anyways or can anyone else for that matter. Extremely complicated machine and chemical physical processes.

完全正确。我看了相关视频。无论如何,中国似乎无法逆向工程,其他人也不能。其机械和化学物理过程极其复杂。
原创翻译:龙腾网 http://www.ltaaa.cn 转载请注明出处


@Writeous0ne
@@terryarmbruster9719 no they already reverse engineered 7nm and 5nm, they just only have the way to do 1 process for 1 kind of chip some kind of server chip.

不,他们已经逆向工程了7nm和5nm,他们只是只有办法为一种芯片做一种工艺,某种服务器芯片。
@user-vz3st8nr4v
That is Awesome. GOD BLESS THE U.S.A

太棒了。上帝保佑美国。
@shriniwaschaudhari8389
India could have a large role to play in the semiconductor industry. India has been making moves to bring the manufacturing of chips to the country.

印度可能在半导体产业中扮演重要角色。印度一直在采取措施向本国引进芯片制造业。
It's strategy is twofold. Lure in foreign companies, and build on areas where India has an advantage, such as chip design.

它的策略是双重的。吸引外国公司,在印度有优势的领域发展,比如芯片设计。
@shriniwaschaudhari8389
@@meganwillslay India has witnessed soaring FDI inflows from USD 45.1 billion in 2014-15 to USD 84.8 billion in 2021-22.

印度的FDI流入从2014-15年的451亿美元飙升至2021-22年的848亿美元。
It proves that India is a stable country.

这证明印度是一个稳定的国家。
@Repz98
"Under the name EU Chips Act, the European Commission plans to allocate €11 billion in public funds for the research, design and manufacturing of semiconductors, with the goal of mobilising a total of €43 billion of public and private investment until 2030" So Europe is planning to get into their own chips as well. after covid, there was a chip shortage, so every nation has been looking into making their own industry

"在欧盟芯片法案的名义下,欧盟委员会计划拨出110亿欧元的公共资金用于半导体的研究、设计和制造,目标是在2030年之前动员总计430亿欧元的公共和私人投资。"所以欧洲也计划进入自己的芯片领域。新冠疫情后,芯片短缺,所以每个国家都在考虑建立自己的产业。
@meganwillslay
@@shriniwaschaudhari8389 nope .thats becoz from 1991 to 2010 india had humungous FDI agter opening. After 2014 india has gone down in all ranks and is unstable .thats why companies that left china went to vietnam ,thailand and malaysia but not to india .india is on the verge of total socital collapse

不,那是因为从1991年到2010年,印度开放后得到了大量外国直接投资。2014年之后,印度的排名下降了,而且不稳定。这就是为什么离开中国的公司去了越南、泰国和马来西亚,而不是印度。印度正处于社会全面崩溃的边缘。
@floopybits8037
At this point India has no real fab it has started the process but the companies have hard time finding the right talent . It is not that easy it is not assembly of chips. It takes years of experience China, japan and Taiwan have yeilds that no one can match because they have 4 decades of experience

目前,印度没有真正的晶圆厂,它已经启动了这个过程,但公司很难找到合适的人才。这不是那么容易,这不是组装芯片。中国大陆、日本和台湾都有40年的经验,他们的经验无人能及。
@floopybits8037
@@meganwillslay India has lot of experience in IT related services. India need more service oriented jobs rather than focusing on manufacturing. We have tried and failed doing that again and again while our service sector is booming like crazy

印度在IT相关服务方面有很多经验。印度需要更多以服务业为导向的工作,而不是专注于制造业。当我们的服务业疯狂发展的时候,我们一次又一次的尝试都失败了。
@floopybits8037
@@meganwillslay What cave do you live in ?? Apple makes its latest phone in India. We have as good programmers as US we have largest workforce of chip designers. Go check your facts first

你住在哪个洞穴里? 苹果公司在印度生产最新款手机。我们有和美国一样好的程序员,我们有最大的芯片设计师队伍。先去核实事实吧。
@justsomeguywithoutamustang6436
@@floopybits8037 booming service sector of Indian scammers keep up the good work

蓬勃发展的印度骗子服务部门,请继续从事这项好工作。
@arthuranydonuts923
@@meganwillslay Gone down in all ranks except electricity access, piped water access, roads, railways, airports and literally all the things that people care for.
Not everyone wants ideological rankings.

除了电力供应、自来水供应、公路、铁路、机场和人们关心的所有东西之外,所有的排名都下降了。
不是每个人都想要意识形态排名。
@user-cv8br2jn8f
It'd not a insult to India but I suspect we'd move investment into the Philippines before India.
We still have Japan, Finland, Korea, and naturally the U.S/Britain/France and most of Europe all of which are stable and sessioned for productions. I think the main road block is the U.S and Britain need to make corruption a criminal charge like the EU, and one or all of the supers within our circles will need too lower standards of luxury so we can simentously increase our tax rate and increase production yields for less

这不是对印度的侮辱,但我怀疑我们会把投资转移到菲律宾,而非印度。
我们还有日本、芬兰、韩国,当然还有美国、英国、法国和大部分欧洲国家,所有这些国家都是稳定的,都在进行制作。我认为主要的障碍是美国和英国需要像欧盟一样将腐败定为刑事指控,我们圈子里的一个或所有超级大国将需要更低的奢侈品标准,这样我们就可以大幅提高税率,以更低的成本提高产量。
@meganwillslay
@@arthuranydonuts923 roads water electricity ??? Third class infrastructure in india .why are u lying to them

路、水、电? 印度的基础设施是三流的,你为什么要骗他们?
@meganwillslay
@@FriendofUkraineA30B hindoo gay ram

印度基佬。
@mandarinandthetenrings2201
I don't think Indian going be a big player in the semi conductor industry at this point. They tried in 1980's and didn't work out that well.

目前我不认为印度会成为半导体行业的大玩家。他们在20世纪80年代尝试过,但效果不太好。
@user-rv9je9ot1w
@@arthuranydonuts923 also in innovation index. Its was 84 in 2014, now its 40.
No one care for human right or democracy index.
Investment only go for authoratarian country like china,vietnam.

创新指数也是如此。2014年是84,现在是40。
没有人关心人权和民主指数。
投资只会流向中国、越南这样的威权国家。
@mandarinandthetenrings2201
@@svanimation8969 You need to understand India's External Minister has set the agenda for India. And it more Russian oil. So get with the program or you be arrested or shot by your government you don't have "Free Speech" and you don't have a choice. India's made it decision. It not going make a whole lot of electric cars do you know why??? Because India isn't planning building a whole lot of roads it is to expensive to build and maintain them.

你要明白,印度外长已经为印度制定了议程。而且它更多的是俄罗斯的石油。所以,要么跟上进度,要么被政府逮捕或枪毙,你们没有"言论自由",你们没有选择。印度已经做出了决定。它不会生产很多电动汽车,你知道为什么吗? 因为印度没有计划建造大量的道路,所以建造和维护它们的成本很高。
@mandarinandthetenrings2201
@@svanimation8969 Also, has a very tiny teeny economy based on agriculture. So it not going to benefit farms to have electric vehicles in there state. Sorry at this time the economic do not support you have a lot gas powered vehicles.

此外,它的经济规模很小,以农业为基础。所以在该国拥有电动汽车对农场没有好处。抱歉,此时的经济不支持你们拥有很多汽油动力的车辆。
@mandarinandthetenrings2201
@sv animation☄️ I have your economic report agricultural is still many way that India make its income. Sorry I can read, Indian!!!

我有你们的经济报告,农业仍然是许多印度人的收入来源。对不起,我识字了,印度人!!
@havencat9337
India can clean the courtyards + take out the rubbish inside the US chip factories.

印度可以打扫庭院,用来接纳美国芯片工厂里的垃圾。
原创翻译:龙腾网 http://www.ltaaa.cn 转载请注明出处


@liang8255
The US will still have its strong hold in chip design (by Asian people), semiconductor manufacturing will remain in Asia (Sorry, Americans just isn't fit for manufacturing such products), the Main semiconductor market will also remain in Asia (particularly China). It's not like you throw some money you can change the game ... Everyone can throw money. It's the law of physics decides who does what.

美国仍将在芯片设计(由亚洲人)方面拥有强大的控制力,半导体制造业将留在亚洲(对不起,美国人不适合制造这种产品),主要的半导体市场也将留在亚洲(特别是中国)。并不是砸点钱就能改变游戏……每个人都可以砸钱。是物理定律决定了谁做什么。
@ukchatman4920
US was the lead for foundries in the past it can happen again, the key is being the lead in the high end chips

美国在过去是晶圆代工厂的领导者,这种情况可能会再次发生,关键是在高端芯片领域处于领先地位。
@gillm9
Americans aren't fit to manufacture such products? Except that we were the ones that did it the first time? what kind of nonsense logic is this. You're right about throwing money at a problem doesn't always fix it - but let's just wait to see how well it's executed before you start counting it out

美国人不适合制造这样的产品? 但我们是第一个这么做的国家!这是什么荒谬的逻辑。你说的对,砸钱解决问题并不一定能解决问题——但在你开始计算之前,让我们先看看它的执行效果如何。
原创翻译:龙腾网 http://www.ltaaa.cn 转载请注明出处


@jaselee117
I didn't know asia had different laws of physics

我还不知道亚洲有不同的物理定律。
@svanimation8969
@@gillm9 sadly in his words soke truth !
West only can now import smart People's in there Country's for staying for few more years with money power ! But in long run it's gonna be hard ! At the end the guys whomever u will invite somehow will try to get more money or help there homeland with tech when it's needed the most !

悲哀的是他的话语中浸透了真理!
西方现在只能用金钱的力量,进口聪明的人,在他们的国家呆上几年! 但从长远来看,这会很困难! 最后,不管你邀请谁,他们都会在最需要的时候,试图获得更多的钱或技术上的帮助!
@sizzurpgaming8928
If the United States can't manufacture semiconductors. china definitely cant

如果美国不能生产半导体,中国肯定不能。
@niko9108
@@gillm9 You can't compare first semiconductors with modern ones. It's like comparing ford model t with modern tesla. Americans are unfit, especially americans of certain ethnic backgrounds. More than 70% of all stem graduate students in the us are international students and the rest is mostly Asian American. In fact, TSMC founder Morris Chang said that one of the two main obstacles to chip manufacturing in the us is the lack of qualified engineers.

你不能把最早的半导体和现代的半导体作比较。这就像拿福特t型车和现代特斯拉做比较一样。美国人不适合,尤其是某些种族背景的美国人。在美国,超过70%的stem研究生是国际学生,其余大部分是亚裔美国人。事实上,台积电创始人张忠谋表示,美国芯片制造的两个主要障碍之一是缺乏合格的工程师。
@1202burton
@@sizzurpgaming8928 China couldn't even manufacture the ball point pen until 2017

直到2017年,中国甚至无法生产圆珠笔。
@richardopan7800
CHINA have been sending 200000 to 250000 top Chinese students to study and to work upon graduation in America for the last 40 years. America should owe a debt of gratitude to China.

在过去的40年里,中国已经派遣了20万到25万优秀的中国学生在美国学习和毕业后工作。美国应该感谢中国。
原创翻译:龙腾网 http://www.ltaaa.cn 转载请注明出处


@gillm9
Gratitude? As if China did this purely out of the goodness of its heart, right? I'm not saying it wasn't a good thing, just don't try to make it sound like China was doing the US some huge favor. I think what you described was equally beneficial to both parties

感激? 好像中国这样做纯粹是出于善意,对吗? 我不是说这不是一件好事,只是不要试图让它听起来像中国在帮美国一些巨大的忙。我认为你所描述的对双方都有好处。
@brunoheggli2888
I will winn the race!

我将赢得比赛!
@samuelp2002
One thing is for sure!
Taiwan will win either way

有一件事是肯定的!
不管怎样,台湾都会赢。
@joevanaken9791
Technonationalism.

技术民族主义。
@nlabanok
Why not? We in the US have invested dearly to educate a majority of the world's PhD's in engineering and the physical sciences...many of whom go onto careers in semiconductors and device physics. Should we not both shield and defend our investments?

为什么不呢? 我们美国人在工程和物理科学方面投入了大量资金来教育世界上大多数的博士……他们中的许多人从事半导体和器件物理学的工作。我们不应该同时留住并保护我们的投资吗?
原创翻译:龙腾网 http://www.ltaaa.cn 转载请注明出处


@leannevandekew4260
Rob's Words.

罗波之语。
@hexbinoban6170
The bric countries if they work together.

金砖四国如果合作的话会赢。
@adninebija
I like patatoe chips!

我喜欢土豆片!
@fenceman53
US invented the microchip

美国发明了微芯片。
@kchuchen1
Xu is sending their technology to China after getting the funding!

徐某拿到资金后就把他们的技术送到中国去了!
@katutuhanan1381
so, this will be also "Made by chinese"?

所以,这也将成为"中国人制造"?
@Markisha64
We in europe should be chip superpower. They (USA, Taiwan, China) use out tech (ASML, ZEISS). €u should invest in FABs in Europe.

我们欧洲人应该成为芯片超级大国。他们(美国、台湾、中国)使用我们的技术(阿斯麦、蔡司)。欧盟应该投资欧洲的晶圆厂。
@shake4259
As a American, I agree and would love for Europe to invest in chips

作为一个美国人,我同意并希望欧洲投资芯片。
@veledveled344
The USA companies own most chip tech patents. European countries are all liable to the US in this business.

美国公司拥有大多数芯片技术专利。在这方面,欧洲国家都要对美国负责。。
@jayc1139
I think a lot of countries in Western Europe that have very vocal environmentalists and green parties, wouldn't like that. It takes a LOT of water to make microchips as odd as that sounds. It'd produce waste water which would have to be dumped somewhere, polluting an area. You'd have to find some country that has loose enough regulations to allow it. Don't forget also, you'd have to destroy a lot of woodland to build the building as well, and we saw how upset German environmentalists, and their green party got, when a small area of trees was cut down for the Tesla car factory. Maybe Eastern Europe such as Poland could do it, they seem to be growing well enough.

我认为很多西欧国家的环保主义者和绿党都不喜欢这样。制造微芯片需要大量的水,这听起来很奇怪。它产生的废水必须倾倒在某个地方,污染一个地区。你必须找到一些法规宽松的国家来允许它。别忘了,为了建造这座大楼,你还必须摧毁大量的林地,当特斯拉汽车工厂砍伐了一小块树木时,我们看到了德国的环保主义者和他们的绿党有多沮丧。也许像波兰这样的东欧国家可以做到,他们似乎增长得足够好。