为什么母系社会会失败?
Why do matriarchal societies fail?
2023-01-05
杏子
6458
0
0
收藏
纠错&举报
译文简介
有关母系氏族的讨论
正文翻译
Ian Williams
Matriarchal societies, where women are at the head of families and power structures, fail for reasons set out by Susanna Viljanen where large numbers of single-parent families (headed by women) raise families and the boys have no father figures to socialise them.
However, matrilineal societies can be quite stable - although cross culturally and across the world, they are quite rare.
Matrilineal societies are derived from the idea that you never can be 100 percent sure who your father is, but you always know for sure who your mother is.
Matrilineal societies base property ownership via the female line. This leads to a very different social structure than is common across most of the world. Men are still in charge of things but there is more of a sense of equality.
在母系社会中,女性处于家庭和权力结构的领导者,由于苏珊娜·维亚宁提出的原因,大量的单亲家庭(由女性领导)抚养家庭,男孩没有父亲的角色来和他们进行社交活动。
然而,母系社会可以相当稳定——尽管在跨文化和世界的情况下,它们相当罕见。
母系社会源于这样一种观念:你永远不可能百分之百确定你的父亲是谁,但你总是确定你的母亲是谁。
母系社会以母系为基础建立财产所有权。这导致了一种与世界上大多数国家不同的社会结构。男人仍然负责事务,但更多的是平等感。
Women in the Trobriand Islands - a matrilineal society - traditionally wear these grass mini-skirts, which are now famous.
A well-researched example of a matrilineal society is in the Trobriand Islands, a cluster of small coral islands off the north-east coast of Papua New Guinea, The islands have long fascinated both anthropologists and travel writers.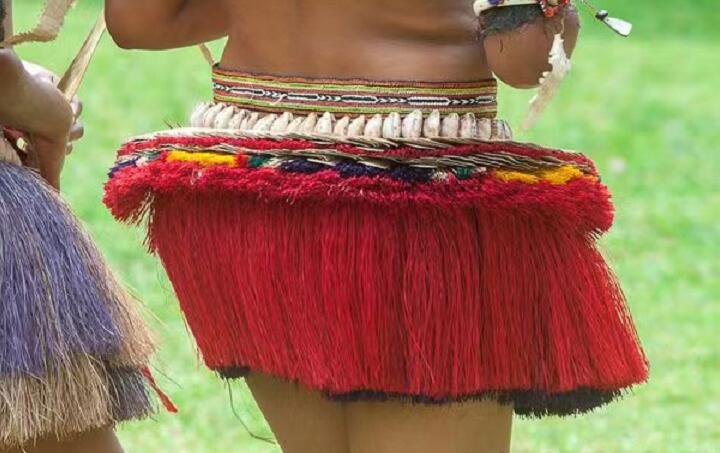 在特罗布里恩群岛——一个母系社会——女性传统上穿这种草做的迷你裙,现在已经很有名了。
关于母系社会,特罗布里恩群岛是一个经过充分研究的例子,它是巴布亚新几内亚东北海岸外的一群小珊瑚岛。这些岛屿长期以来一直吸引着人类学家和旅行作家。
While the women do marry and have husbands, extra-marital affairs are common. Most villages have a special hut called a bukumatula which is used for extramarital encounters. Virginity is not prized. A school teacher on the islands once told me that you could never guarantee a girl was a virgin if she was over the age of nine.
Babies are thought to be the result of magic with no lix between sex and pregnancy. If a girl gets pregnant, her family keeps the baby, because, according to the local beliefs, men just help to open up the woman to pregnancy - the real father is a Baloma or spirit. This is despite the fact they do understand biology - for example, they understand that pigs won't get pregnant unless they are mated.
Magic has been very important in this traditional society. Polish anthropologist Bronislaw Malinowski, in the early 1900s recorded countless spells performed by a towosi, or professional gardening magician. Most Trobriand gardeners still engage in garden magic.
虽然这些女性确实结婚并有了丈夫,但婚外情很常见。大多数村庄都有一个叫做bukumatula的特殊小屋,用于婚外情。童贞并不被珍视。岛上的一位老师曾经告诉我,如果一个女孩超过9岁,你就无法保证她是处女。
婴儿被认为是魔法的结果,且性和怀孕之间没有联系。如果一个女孩怀孕了,她的家人会留下孩子,因为根据当地的信仰,男人只是帮助女人怀孕-真正的父亲是巴洛马(已故血统成员的精神)或灵魂。尽管他们确实了解生物学——例如,他们知道猪除非交配,否则不会怀孕。
在这个传统社会中,魔法一直很重要。波兰人类学家布罗尼斯瓦夫·马林诺夫斯基在20世纪初记录了由托沃西或专业园艺魔术师表演的无数咒语。大多数特罗布里恩的园丁仍在从事园艺魔术。
The islanders have a complex social structure. The father-figure for boys is often the woman's uncle - which makes for very different relationships to what is "normal" in the West.
Although land ownership in the Trobriand Islands follows the matriline, married women often live with their husbands—meaning few people live on land that belongs to them. Rather, they obtain the right to live on, and cultivate, someone else's land, as long as they're on decent terms with the village elder. But to remain in the good graces of the village elder, villagers must pay in yams (as a form of rent)—or else get kicked out.
Sadly, the social structure is now under threat. Particularly bad droughts hit in 2009, 2010, and 2016, and, amidst these poor growing conditions, the islands' population spiked.
More hamlets have sprung up, leaving less arable land to go around. Over-farming has drained the soil of important nutrients. Yams, once harvested in surplus, are growing scarce—threatening to unravel the social and political fabric of the islands.
岛民有一个复杂的社会结构。男孩的父亲形象通常是女人的叔叔——这与西方的"正常"关系非常不同。
虽然特罗布里恩群岛的土地所有权遵循母系制,但已婚妇女通常与丈夫住在一起,这意味着很少有人住在属于她们的土地上。相反,他们获得了在别人的土地上生活和耕种的权利,只要他们与村里的长老关系良好。但是为了保持村长的好感,村民们必须用山药(块茎富含淀粉,可被人食用)(作为租金的一种形式)来支付,否则就会被赶出去。
可悲的是,这种社会结构现在正受到威胁。2009年、2010年和2016年发生了特别严重的干旱,在这些恶劣的生长条件下,岛上的人口激增。
越来越多的小村庄拔地而起,可耕种的土地越来越少。过度耕种耗尽了土壤中的重要养分。曾经收获过剩的山药,现在却越来越稀缺——这可能会破坏这个岛屿的社会和政治结构。
Addendum:
Some of the comments express concern about how men may "suffer" with poverty and hardship in this matrilineal system.
Well gentlemen, if you want to get rich in this Trobriand society the answer is simple: Have lots of wives. There's no rule about having only one wife.
When I visited the islands a great many years ago, I met the "king" a man in his late 60s or perhaps in his 70s. He had 11 wives. While some of the wives were young and attractive (and substantially younger than him), this was not his motivation. All the wives' relatives were obligated to keep his gigantic yam house full.
附录:
一些评论表达了对男性在这种母系制度下如何"遭受"贫穷和困难的担忧。
先生们,如果你们想在特罗布里安社会发财答案很简单:娶很多老婆。没有规定只能有一个妻子。
许多年前,当我访问这些岛屿时,我遇到了"国王",一个60多岁或70多岁的男人。他有11个妻子。虽然有些妻子年轻迷人(比他年轻得多),但这不是他的动机。所有妻子的亲戚都有义务把他巨大的山药屋装满。
This is a standard size yarm house. A full yam house is a sign of prestige and power. The king's yam house was about three times as tall.
Across much of Papua New Guinea, wives are sexted not because of good looks, but their ability to work hard in the gardens. Toughness and fitness is the attraction. Looking good is very much less important.
In the New Guinea highlands, the way for a man to get rich is to have more wives. More wives mean bigger gardens. Bride price is paid to the wife's relatives, essentially, to compensate her family for losing a good worker. (Men work in the gardens too - they don't just sit around and relax.)
这是一个标准大小的院子。满满一屋的山药是威望和权力的象征。国王的山药屋大约是它的三倍高。
在巴布亚新几内亚的大部分地区,挑选妻子不是因为漂亮,而是因为她们在花园(农作物园)里辛勤工作的能力。坚韧和健康是吸引人的地方。外表好看就没那么重要了。
在新几内亚高地,男人致富的方法就是娶更多的妻子。妻子越多,花园就越大。彩礼是付给妻子的亲戚,本质上是为了补偿她的家庭失去了一个好工人。(男人也在花园里工作——他们不只是坐在那里放松。)
评论翻译
Raman Calla
India has few states matrilineal family system . They have father figure and stable families I.e. Kerala , Assam . Properties go through mother to daughter . Women control the families . After Marriage Boy goes to the Bride family

印度有很少的几个邦实行母系家庭制度。他们有父亲角色和稳定的家庭,比如喀拉拉邦、阿萨姆邦。财产由母亲传给女儿。女人控制着家庭。婚后男孩去了新娘家
Daniel Nowaj Majumder to Raman Calla
Assam does not have matrillineal societies. Meghalaya does.

阿萨姆邦没有母系社会。梅加拉亚邦有这个。
Abhi to Raman Calla
Kerala is not matrilineal. Nairs and some ethnic groups that emulated them were. And they were not controlled by women. It was patriarchal and property was absolutely controlled by the oldest male (no concept of ownership).

喀拉拉邦不是母系。奈尔斯和一些效仿他们的族群才是。他们不受女性控制。这是父权制,财产完全由最年长的男性控制(但没有所有权概念)。
M Wasif Khan to Daniel Nowaj Majumder
Yeah, it's the Khasi tribe in Meghalaya that is matrilinear.

是的,梅加拉亚邦的卡西部落是母系的。
Arif Azizi
"Matrilineal societies base property ownership via the female line. This leads to a very different social structure than is common across most of the world. Men are still in charge of things but there is more of a sense of equality."
One of the state in my country follows this system, the leader is still chosen from among the male member of the family but the seniority is via the female line. Man do not possess any property other than what he bought with his own money after marriage, and then his possession can only be passed to his daughters.
Ever heard of the democratic monarchies? Yeah, this state is one of a kind, an oddball in Malay spheres.

"母系社会通过女性血统建立财产所有权。 这导致了一种与世界上大部分地区常见的社会结构截然不同的社会结构。男人仍然负责事务,但更多的是平等感。"
我国的一个州遵循这种制度,领导者仍然从家庭的男性成员中选出,但资历是通过女性继承的。男人除了婚后用自己的钱买的东西外,没有任何财产,而且他的财产只能传给他的女儿。
听说过民主君主制吗?是的,这个州是独一无二的,在马来人的圈子里很奇怪。
Jennifer Olorenshaw
'Babies are though to be the result of magic'.
It appears a large number of persons in first world countries think so too

"婴儿被认为是魔法的结果"。
第一世界国家的许多人似乎也这么认为
Michael to Jennifer Olorenshaw
I've often wondered where my children were before they were born. Once you have children you realize we are all spiritual beings with far more going on than what can be accounted for physically. I like the way they have incorporated this spiritualism into their culture.

我经常遐想我的孩子们出生前在哪里。一旦你有了孩子,你就会意识到我们都是精神上的存在,远远超过物理上可以解释的事情。我喜欢他们将唯心论融入他们文化的方式。
Ian Williams to Michael
Yes, I agree. The spiritual side of their beliefs is interesting.

是的,我同意。他们信仰的精神方面很有趣。
Ewe Yu Yie
Matrilineal system encourages male members of the society to leave and seek their fortune elsewhere. Over time matrilineal societies tend to collapse when something extraordinary happen such as climate change, natural disasters and wars due to lack of males in the community

母系制度鼓励社会中的男性成员离开,到其他地方寻找财富。随着时间的推移,当气候变化、自然灾害和战争等异常情况发生时,母系社会往往会崩溃,因为社区中缺乏男性
Claus Appel to Ewe Yu Yie
Can you cite sources for this?

你能举出这方面的来源吗?
原创翻译:龙腾网 http://www.ltaaa.cn 转载请注明出处


Ewe Yu Yie to Claus Appel
You can Google for one tribal laws called adat perpatih. Unlike the people of the Trobriand Islands which believe in magic, the Minang people of Sumatra and Negeri Sembilan are pretty much a modern community.

您可以在谷歌上搜索一项名为adat perpatih的部落法。与相信魔法的特罗布里恩群岛人不同,苏门答腊岛和森美兰州的米南人则几乎是一个现代社会。
Naina Sharma to Ewe Yu Yie
"Matrilineal system encourages male members of the society to leave and seek their fortune elsewhere"
Why ? Is it because the male ego can't handle a woman holding more power?

母系制度鼓励社会中的男性成员离开,到别处寻找财富
为什么?是因为男性的自尊心无法接受一个拥有更大权力的女性吗?
原创翻译:龙腾网 http://www.ltaaa.cn 转载请注明出处


Ewe Yu Yie to Naina Sharma
Nope. In these parts of the world custom and tradition are considered as sacred. There's even an adage which says that they would rather let their child die than letting their tradition die. If ego is an issue, the male members of such society would have rebelled and abolished matrilineal tradition in favour of the male population centuries ago. One of the main reason is the fact that males do not customarily inherit properties. Since they don't inherit properties, in some matrilineal societies males are even encouraged to migrate elsewhere to make a fortune for themselves before returning to their homelands with the wealth they make. It is not a good motivation for many male members of such societies where in the end most choose to marry gals they come to know in their adopted homes instead of going back home. One of them is my great2 grandfather.

不。在世界的这些地方,习俗和传统被认为是神圣的。甚至有一句谚语说,他们宁愿让自己的孩子死去,也不愿让自己的传统死去。如果自尊是一个问题,那么这样的社会中的男性成员在几个世纪前就应该反抗并废除母系传统,支持男性人口。其中一个主要原因是男性通常不继承财产。由于他们不继承财产,在一些母系社会中,甚至鼓励男性移民到其他地方为自己创造财富,然后带着他们赚到的财富返回家园。对于这样的社会中的许多男性成员来说,这不是一个好的动机,因为最终大多数人选择与他们在第二故乡认识的女孩结婚,而不是回家。其中一位是我的曾祖父。
Julia Harris to Naina Sharma
No. Its because they want to move out of an incredibly biased system that discriminates against them just because they were born with a penis.
sexism is wrong regardless of who it is against.

不。这是因为他们想要摆脱一个仅仅因为他们生来就有阴茎而歧视他们的令人难以置信的偏见体系。
性别歧视是错误的,不管它是针对谁。
Kevin Cameron
"Sadly, the social structure is now under threat."
A social structure where it is uncommon to find a nine year old virgin…
Sounds worth keeping because it is matrilineal? If it was patriarchal no one would think it is sad.
Matriarchal, matrilineal, patriarchal, virginity prized or not, doesn't matter. You can't make me believe that the nine year old girls living in that society are somehow more mature and the ones in charge of making the decisions about their bodies like that.
It is not sad that it is under threat. It is sad that it lasted this long.

"可悲的是,社会结构现在正受到威胁。"
在这个社会结构中,很难找到一个9岁的处女……
听起来值得保留,就因为它是母系的?如果这是父权制的,没有人会认为这是可悲的。
母系,母系,父系,贞操珍视与否,其实都不重要。你不能让我相信生活在那个社会里的九岁女孩会更成熟,会对自己的身体做出这样的决定。
它受到威胁并不令人难过。遗憾的是,它持续了这么长时间。
Rinaldo Frezzato
Matriarchal society existed for several thousand years, so it didn't fail. However, it weakness was that matriarchal societies were mainly peaceful and had great difficulty in defending themselves in the great population movement east to west.

母系社会存在了几千年,所以它没有失败。然而,它的弱点是母系社会主要是非暴力的,在大规模的人口东迁西迁中很难保护自己。
Kairi Ali to Rinaldo Frezzato
When shit hits the fan , war, natural disasters etc , a matriarchal system folds.

当糟糕的事情发生,战争,自然灾害等,母系制度就会崩溃。
Jacob Baumgardner
I grew up in a matrilineal household (in a loose form of the definition), with growing up in Texas after my mum moved us to the US as my American dad had work there. I'd say it worked very well with most of my 5 younger siblings being or on the way to becoming successful in life.
My dad goes and does his work around the world but my mum runs the house. Does taxes, does yard work, basically manages family matter (even helps me with reminders and taxes at age 22 and halfway across the country), and keeps up with all the bills and mail, and that's a cake walk compared to what she did while overseas, managing hundreds of people and their passports on a ship. My dad is of course helpful as he manages the buildings and vehicles, is a people person and maintains many of the connections worldwide necessary for their work. At the end of the day, however, without her tenacity I can assure you I wouldn't be where I am today without her.
I find these small pockets of old culture fascinating, as they are far from familiar and expand our knowledge of what is possible. Thank you for sharing.

我在一个母系家庭长大(广义上的),在德克萨斯州长大,因为我的美国爸爸在那里工作,所以我妈妈把我们搬到了美国。我想说,这对我的5个弟弟妹妹中的大多数人来说都很有效,正在走向成功的道路上。
我爸爸去世界各地做他的工作,但我妈妈管理着家。做税务,做庭院工作,基本上管理家庭事务(甚至在我22岁的时候,横跨半个国家帮我处理提醒和税务),并处理所有账单和邮件,与她在海外管理数百人和他们的护照的工作相比,这简直是小菜一碟。我的父亲是很有能力的,因为他管理着建筑物和车辆,是一个善于交际的人,并保持着他们工作所需的许多全球联系。然而,归根结底,如果没有她的坚韧,我可以向你保证,如果没有她,我不会变成今天的样子。
我发现这些古老文化的细小部分很吸引人,因为它们远非我们所熟悉的事物,并扩大了我们对可能发生的事情的了解。感谢您的分享。
Ian Williams to Jacob Baumgardner
I am glad things have worked out well for you. Some mothers do a wonderful job in organising and raising their families.
The family situation you describe is called Matriarchal, not Matrilineal - which is a social system outlining rules for how inheritence, property matters and ownership is decided.

我很高兴你一切顺利。有些母亲在组织和抚养家庭方面做得很好。
你描述的家庭情况被称为女家长的,而不是母系的,母系氏族是一种社会制度,概述了继承、财产问题和所有权决定的规则。
原创翻译:龙腾网 http://www.ltaaa.cn 转载请注明出处


Francis Vollono
Societies that can not defend themselves don't seem very successful to me. The fact that these societies only still exist in very remote area's of the planet seems to support my feeling.

在我看来,不能自我保护的社会是不成功的。事实上,这些社会只存在于地球上非常偏远的地区支持了我的感觉。
Markus Brinkmanis
I can't see how such structures could compete against patriarchal ones. What's the interest of men to live in such society? They don't even know, who are their offspring. And why should they care about their promiscuous wives or defend the family with their life, where neither the children nor the property are theirs? I guess, the men run off at the first opportunity.

我看不出这样的结构如何能与父权结构竞争。男人们生活在这样的社会里有什么乐趣呢?他们甚至不知道谁是他们的后代。在孩子和财产都不是他们的地方,他们为什么要关心他们滥交的妻子,或者用生命来保护这个家庭呢?我猜,男人一有机会就跑了。
原创翻译:龙腾网 http://www.ltaaa.cn 转载请注明出处


Ian Williams to Markus Brinkmanis
You have have good questions , but you are thinking like a westerner. You are finding it difficult to imagine an agricultural lifestyle on isolated islands where cultural beliefs are amazingly different.
They simply don't see ownership in the way you do.
When we study different cultures we also get a better understanding of our own.
And that is why I wrote the article.

你的问题很好,但你像西方人一样思考。你会发现很难想象与世隔绝的岛屿上的农业生活方式,那里的文化信仰有着惊人的差异。
他们只是不像你那样看待所有权。
当我们学习不同的文化时,我们也能更好地了解自己的文化。
这就是我写这篇文章的原因。