中国网红打卡地突发山洪致7人死亡,8人受伤
Flash flood in in popular Chinese tourist spot kills 7, injures 8
2022-09-22
翻译加工厂
13012
0
2
收藏
纠错&举报
译文简介
中国四川省龙漕沟发生山洪爆发。
正文翻译
每人一小段,翻译我也行!
每日新素材,等你来认领! http://www.ltaaa.cn/translation
-------------译者:独孤风云---- 审核者:龙腾翻译总管------------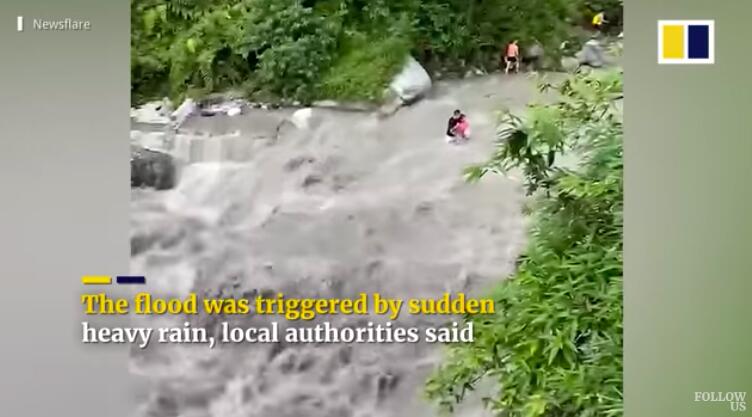 Seven people were killed and eight others injured when a flash flood hit Longcao Valley in China's Sichuan province.
中国四川省龙漕沟发生山洪爆发,造成7人死亡、8 人受伤。
评论翻译
-------------译者:不是这样的--- 审核者:龙腾翻译总管------------

TimMcgraw
I'm still sad to see these.
In fact, the local government has set up guardrails beside the river, and there are warning signs prohibiting people from playing in the river, and grass-roots cadres used loudspeakers to let those who are in the river leave.
If they are forcibly removed, some people will say that there are no human rights. If it is not enforced, these people cannot be kept away from danger. I can only say that this is a tragedy.

对这件事件我很悲伤。
实际上,地方政府已经在河边设置了护栏,并且还有警告牌禁止人们在河里玩耍,而且还有基层干部使用扩音器让河里的人离开。
如果他们强制驱赶,一些人会说他们没人权。但是如果不强制执行,这些人们可能会遭遇危险。我只能说这是一件悲剧。
muFF
Do not underestimate the power of river water. they shouldn''''t be camping literally in the river.
RIP to the victims and condolences to the family members.

不要低估河水的力量,他们不应该在里边露营。
遇难者安息,并向家属表示慰问
原创翻译:龙腾网 http://www.ltaaa.cn 转载请注明出处


Codeman
According to the Chinese news, the hazard zone officers were begging people to leave, but still some refused to leave until it is too late, and it angered a lot of netizens. Also says the flash floods came in 5secs, this is not an exaggeration, you should always respect the nature, always!

根据这条中国新闻,灾难发生地区的官员请求人们离开,但是始终有部分人员拒绝离开,(灾难发生后)却为时已晚。这激怒了很多网民,还说山洪是在5秒钟内发生的,这并不夸张,你应该永远尊重自然,永远!
-------------译者:Helado--- 审核者:龙腾翻译总管------------
Adora Tsang
I did the same thing in Hong Kong when I was a kid in the early 80s. There was a similar river in Quarry Bay between the Reservoir Garden and Kornhill, we were never there during floods but it was still dangerous.
They put up warning signs but it''''s ineffective against the mob mentality. "If everyone is doing it, it can''''t be that bad!"

我80年代初在香港干过一样的事。在大潭和康山之间的鲗鱼涌一条差不多的河,我们没遇到过洪水但是也挺危险的。
他们竖了警示牌但是对暴民心态完全没有用。"大家都在干哪有那么严重!"
Sunny
I mean the river is fenced off with warning signs alongside the river, yet these people cut the fence to swim in this hazardous area. I just can''''t understand the reasoning behind this.

咱就是说沿河都用铁丝网和警示标志给围起来了,这些人还剪了铁丝网去危险区域游泳。我就无法理解这个行为背后的逻辑。
原创翻译:龙腾网 http://www.ltaaa.cn 转载请注明出处


Lionel Wong
This place is off limits to tourists because of the danger of flash flood due to melting glaciers and heavy rainfall. The entire place was fenced off by local authorities but people pulled down a part of the fence to enter this place despite warnings from the local authorities.
Local people knew the dangers of sudden flash flood and surging river water and would stay clear of this place. Unfortunately tourists from other provinces refused to heed the warning and went to this place and suffered the consequences.

这个地方因为冰川融水和暴雨有洪水风险所以是非观光区。整个区域都被当地政府用铁丝网围起来了,但是人们无视当地政府警告拉掉一块铁丝网进去。
当地人都知道洵流和涨水的风险远离这里。不幸的是跟风来的游客拒绝接受警告非要进去然后承担后果。
-------------译者:Helado--- 审核者:龙腾翻译总管------------
Veronica Oliveiro
Sad to see people hanging around even after warned. I lived in a country where people are known to be disciplined and always follows instructions. Trust me, if anyone entered a forbidden area he's probably not local.

很难过看到人们在警告后依然逗留。我生活在一个人们懂得守序和服从的国家,相信我,如果有人进入了被禁止的区域他大概不是本地人。
meng meng
"popular Chinese tourist spot"????
Please be careful with the title. This is not a tourist attraction. The river, which is fenced in and used as a flood channel, has not been developed as a tourist attraction.

"中国大热景点"????
拜托小心这种标题党,这可不是旅游广告。这条被围住且用作泄洪口的河流,从来没有被当成旅游景点开发。
momo n things
so sad:( I hope those injuries will recover ok.. my heart goes out to the families and friends:(

好难过:( 希望伤者都能康复,我对他们的家人和朋友表示慰问:(
NelieD
Always listen to warnings. It''''s their stubbornness and arrogrance that got them. They were already warned and yet they didnt leave.

永远要听劝。伤害他们的是他们的固执和嚣张,已经被警告了却还不离开。
-------------译者:wypflyhigh--- 审核者:龙腾翻译总管------------
J Zeng
There is a warning by the river: summer is a high incidence of flash floods. We cannot control the changes in weather and flash floods. We sincerely hope that you really love life and do not go into the river.

河边有警告:夏季是山洪暴发高发期。我们无法控制天气和山洪暴发的变化。我们真诚地希望您真正热爱生活,不要下河。
luci
so people were warned in advance, decided to stay, and not only put themselves at risk but also put the rescue crews at risk… smh.

所以人们已经被提前警告了,仍决定留下来,不仅让自己处于危险之中,而且还让救援人员处于危险之中……。
Zhengzheng Gu
Correction - this is not a tourist spot as it is fenced area that people shall not trespassing or entering. But people were going anyway despite the warnings by sign and fence, because it's a hot spot internet sensation…… everyone wanted to go to tick the box…… very tragic news which can be avoided if people are simply follow the warning sign.

更正 - 这不是一个旅游景点,这个区域已经被围栏拦住了,人们不得擅自进入。但是人们不顾警告标识和围栏还是去了,因为这是一个网红打卡地......每个人都想去打卡......只要人们能够遵守警示标识,这种悲惨的事情本可以避免
Lily Flower
May Those That Passed Rest In Paradise

愿那些逝去的人在天堂安息
-------------译者:wypflyhigh--- 审核者:龙腾翻译总管------------
Miss CutieKen Vlogs
rip to the victims

遇难者安息
Nunya Biznes
Rivers are treacherous, especially if the rain was too far upstream and there''''s no way for you to know it''''s raining there.

河流是危险的,特别是上游的雨太远了,你无法知道那里正在下雨。
Hikarushinyi
There is a news I read 2 months ago, a woman went hiking near the river same like this on video lot of rocks on bad weather, got push away by flash flood & unfortunately didn''''t survive, the scariest is the rescuers able to find her but the her body are not complete

我两个月前看到一个新闻,一个女人在河边徒步旅行,就像视频里这样有很多石头、天气不好,她被山洪冲走,不幸的是没能活下来,最可怕的是救援人员找到她时,她的身体已经不完整了。
原创翻译:龙腾网 http://www.ltaaa.cn 转载请注明出处


VicenzoV
What would be a better feeling than being stuck on a rock about the swept away by water, and then be rescued by a helicopter?

还有什么比困在快要被水冲走的岩石上,然后被直升机救起更好的感觉呢?
Corinne Kae
Identified as a hazardous area and yet local authorities did not restrict access to said area but became a popular tourist attraction instead. Disturbing.

被确定为危险区域,但地方政府并未限制进入该区域,而是成为一个受欢迎的旅游景点。令人不安。
-------------译者:wypflyhigh--- 审核者:龙腾翻译总管------------
Lily Flower
May those that passed Rest In Paradise

希望这些逝去的人能在天堂安息
Leon S Kennedy
Never underestimate the full power of mother nature! Things can turn bad in a matter of seconds.

永远不要低估大自然的力量!事情可能会在几秒钟内变得糟糕。
JustFeelBetter
im surprised people are camping on a mountain riverway ...height of stupidity.

我很惊讶人们在山区河道上露营......愚蠢的程度。
Adi
when dealing with the nature, always followed the officers warnings ,they are some Unsong heroes.

当与自然打交道时,总是听从官方的警告,他们是一些无名英雄。
feng Qing
the parents killed their child!!! local officials urged them to leave the dangerous place,there also have warning :No incoming dangerous!

父母害死了他们的孩子!!!当地官员敦促他们离开危险的地方,也有警告:危险勿入!
-------------译者:wypflyhigh--- 审核者:龙腾翻译总管------------
原创翻译:龙腾网 http://www.ltaaa.cn 转载请注明出处


bill bixby
A dry river bed is a popular tourist destination? Come on guys, sometimes you have to save people from themselves.

一条干涸的河床是一个受欢迎的旅游目的地?拜托,有时你必须从人们自己手中拯救他们。
Huang Xì Zhang
Rivers down the hills would be too calm and enjoyable. But when it rains up in the mountain. It''''ll gives you no warning, you''''ll be surprised with the flashflood and you only shave a secs to runaway.

山下的河流会太平静和令人愉快。但是山上下雨的时候。它不会给你任何警告,山洪会让你措手不及,你只有几秒钟就可以逃跑。
原创翻译:龙腾网 http://www.ltaaa.cn 转载请注明出处


Ken T
They ignored the police, that's what they get. Pure raw mother nature.

他们无视了警察,这就是他们得到的。纯粹原始的自然母亲。
Jenna Kennedy
Yamaha was involved in the rescue operations. China should thank the Japanese for helping them.

雅马哈参与了救援行动。中国应该感谢日本人的帮助。
secretkilla
the same thing happend to me i was swimming in the river with my cousin while its raining the current was so strong luckily i got out sooner

同样的事情也发生在我身上过,我和表弟在河里游泳时下雨,水流非常强劲,幸运的是我很快出来了
-------------译者:wypflyhigh--- 审核者:龙腾翻译总管------------
Jay Ram
Father in the Mighty name of Jesus please calm the storms in China, many people are losing their lives due to the catastrophic events their country has been challenged with. I lift up all the saved and the unsaved and I pray you will hear us the Body of Christ and answer from your Kingdom in the name of Jesus. Amen and Amen

奉全能耶稣父亲之名,请平息中国的风暴,许多人因国家发生的灾害事件而丧生。我举起所有得救和未得救的人,我祈祷你会听到,并奉耶稣的名从你的王国的回应。阿门
Razey
This is tragic news! Fortunately this happened in China where the local authorities and services can provide the support and consolation to the people close to the victims. China is truly the best country in the world.

这是一个悲惨的消息!但好在这发生在中国,当地政府和服务部门可以为与受害者亲属提供支持和安慰。中国确实是世界上最好的国家。
Hiblackie
That much water in 5 seconds. Scary!

5秒内有那么多水。可怕!
Bruce Wang
Another victory for America

美国的又一次胜利。
A. GM
So sorry to hear.

很遗憾听到这个消息。
-------------译者:wypflyhigh--- 审核者:龙腾翻译总管------------
Amany Meriam
Also, 5 seconds is a really short time to escape. Should have listened to the warnings beforehand

而且,5秒的逃跑时间真的很短。应该听取警告
my name is ksi
How horrible, its a scary sight

太可怕了,真是个可怕的场景
KASUROT TV
Stay safe everyone

大家注意安全
You Tube
ONe death is too many, but with all those people there'''' they were lucky there were not many more deaths.

一个人死亡都太多了,不过有那么多人在那里……很幸运没有造成更多的死亡。
The Extraterrestrial
What''''s wrong with the title.. This is not a tourist spot..

标题是有什么问题,这不是一个旅游景点
-------------译者:wypflyhigh--- 审核者:龙腾翻译总管------------
Deepak
Be aware From the Flood.

小心洪水
Wildrift Noob Player
they never learn.
last years events that happened in ph went viral as well.
they know exactly that this type of rive can''''t be trusted

他们从不吸取教训。
去年发生在菲律宾的事件也像病毒一样传播开来。
他们很清楚这种河流是不可信的
A W
Unfortunately tourists are not the smartest bunch!

不幸的是,游客不是最聪明的人群!
Ray Mak
The water was so rapid...

水太急了……
Roamin Rob
The government also opens dams giving people not much chance of avoiding these places..

政府还开放了水库,让这些人们没有什么机会避开这些地方……
-------------译者:wypflyhigh--- 审核者:龙腾翻译总管------------
dyrectory com
I just watched a video of heavy rainfall in France. Stay safe!

我刚刚看了一段法国暴雨的视频。注意安全!
原创翻译:龙腾网 http://www.ltaaa.cn 转载请注明出处


Bobby Moss
Well, that's one way the River Deity is telling these people to get out of the river.

嗯,这是河神告诉这些人离开河的一种方式。
Chief Scheider
Looks like the person right at the beginning of the video was holding an infant.

看起来视频开头的那个人抱着一个婴儿。
Fajar Kurniawan
I hope all of the people in this video survive

我希望这个视频中的所有人都能活下来
DoxTer StockMan
What a worst location to enjoy with family members

多么糟糕的和家人享乐的地点啊
-------------译者:wypflyhigh--- 审核者:龙腾翻译总管------------
Fernan Montevista
That's sad.I just wish they would listen. to authority

太难过了。我真希望他们能听官方的
原创翻译:龙腾网 http://www.ltaaa.cn 转载请注明出处


SaltyFish
well.. should never ever camp next to any river,stream,etc.. plus there are warning signs..paid life for stupidity..

好吧..永远不应该在任何河流、溪流等旁边露营,再加上旁边还有警告标志..为愚蠢付出了生命..
J.C.
There's a huge warning sign and precautions at the entrance

入口处有巨大的警告标志和注意事项
Andly Wolf
RIP

安息
-------------译者:wypflyhigh--- 审核者:龙腾翻译总管------------
原创翻译:龙腾网 http://www.ltaaa.cn 转载请注明出处


John Tam
No I don't feel sorry for those who not taking the warning seriously and die, especially if someone under their care.

不,我不会为那些不把警示当真而死去的人难过,特别是如果有人在他们的照顾下。
Marcus Wong
Warn ppl? Should enforce it and make it illegal and fine.

警告人们?应该强制执行、使其非法并采取罚款。
do vo ly
Surely it's not the first time .. ppl are still dumb enough to go there

当然这不是第一次了..人们仍然愚蠢到可以去那里
SassyBunny
It's like dumb ways to die.

这就像愚蠢的n种死法
原创翻译:龙腾网 http://www.ltaaa.cn 转载请注明出处


teri maddi
I m not sure to understand what is the point of this activity

我不确定这个活动的意义何在
-------------译者:独孤风云---- 审核者:龙腾翻译总管------------
西村ishi
when I said i scared nature instead of human and ghost

要我说,我与其害怕自然,更甚人和鬼
原创翻译:龙腾网 http://www.ltaaa.cn 转载请注明出处


Studio Ashlan
If water was channelized flood water could have been stored in dams and remaining released.

如果洪水被控制在沟渠里,就能可以储存在水坝中并被释放。
Jacob Aguirre
Idiot people are still not following the rule and the law. Bad manners

愚蠢的人总是不遵守规则和法律。 坏习惯
Daniel Hariss
In Malaysia we call this "Kepala Air"

在马来西亚,我们称之为"Kepala Air"
Chintala lokesh
No camping on river beds.

不能在河床上露营。