为什么殖民火星这么难?
Why is it so hard to colonize Mars?
2022-01-09
辽阔天空
10418
0
4
收藏
纠错&举报
译文简介
网友:火星离地球很远。它没有大气,当然也没有足够的氧气供我们呼吸。就像歌里唱的那样,这里"冷得像地狱",因为火星离太阳的距离比地球与太阳的距离远得多。"地球化"火星是一个需要数千年时间和花费的项目,比我们所拥有的还要多,而且这个项目可能行不通......
正文翻译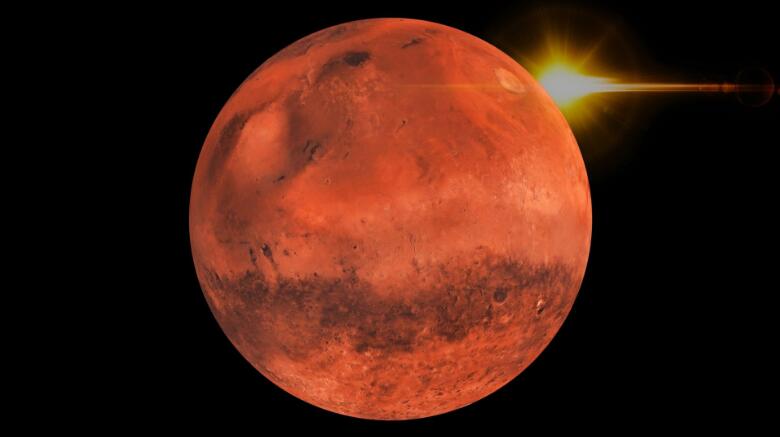 Why is it so hard to colonize Mars?
为什么殖民火星这么难?
评论翻译
Jess H. Brewer, Let's go!
It's a long way from here.
It has no atmosphere to speak of, certainly not enough oxygen for us to breathe.
It's "cold as hell", as the song says, since it's so much further from the Sun than Earth is.
"Terraforming" Mars is a project that would take millennia and cost… well, more than we have. And it might not work.
Mars is just another dusty gravity well. Why would we want to go there? If we can get off this planet, we should put a colony on the Moon, build a linear induction launcher to send a steady stream of regolith to L5, smelt it there into oxygen and metal beams to build O'Neill space colonies, outfit same with self-sufficient ecosystems, fill them with people and go traveling!

火星离地球很远。
它没有大气,当然也没有足够的氧气供我们呼吸。
就像歌里唱的那样,这里"冷得像地狱",因为火星离太阳的距离比地球与太阳的距离远得多。
"地球化"火星是一个需要数千年时间和花费的项目,比我们所拥有的还要多,而且这个项目可能行不通。
火星只是另一个尘土飞扬的重力井。我们为什么要去那里? 如果我们能离开这个星球, 我们应该在月球上建立一个殖民地, 建造一个直线感应发射器,向L5太空城市发送源源不断的风化层,在那里将其熔炼成氧气和金属束,建立奥尼尔太空殖民地, 为其配备自给自足的生态系统,让火星充满人,然后去旅行!
Nicolas Bontampi, lives in Switzerland
Because the amount of air needed to create an atmosphere which you can live in is beyond anyone's imagination. Even if we got mysterious machines able to convert Mars' atmosphere in a breathable atmosphere, the time needed to convert enough air can be estimated in millions years.

因为创造一个你可以生活的环境所需要的空气量是任何人都无法想象的。即使我们有神秘的机器,能够将火星的大气转换为可呼吸的大气,转化足够空气所需的时间估计为数百万年。
John P E Curtin, Amateur Astronomy Volunteer at various large university observatories.
The atmospheric pressure on Mars at the bottom of Hellas Planitia, the lowest elevation on Mars is at most 17 Millibars. This is 1.7% the pressure on Earth at Sea Level. This extremely low pressure is really the worst aspect of Mars. All other terrible negatives of Mars would greatly disappear if we could find someway of increasing this pressure; from the terrible nightly cold, to the terrible ultraviolet rays, to the terrible dust storms, to the terrible lack of surface water; to the terrible lack of eligible soil to plant crops.

火星上希腊平原底部的大气压力最多为17百帕(毫巴)。这是地球在海平面上1.7%的压力。这种极低的气压是火星最糟糕的一面。如果我们能找到增加压力的方法,火星上所有其他可怕的负面影响都会大大消失;从可怕的夜间寒冷,到可怕的紫外线,到可怕的沙尘暴,再到可怕的地表水缺乏现象;到严重缺乏适合种植作物的土壤。
If only we could raise Mars atmospheric pressure Mars wouldn't be such a nightmarish terrible place. If we could raise the surface pressure from 17 Millibars to 54.64 Millibars the boiling point of pure water would increase from 50 degrees Fahrenheit to 68.45 degrees Fahrenheit thereby keeping the appearing small pools of liquid water from boiling away at the highest temperatures reached at the Martian equator in Summer which is 68 degrees. Just this slightly higher pressure would slightly reduce the day and night temperature differences because the liquid water would keep its temperature more than the ground.

如果我们能提高火星的大气压力,火星就不会是一个噩梦般可怕的地方。如果我们能将表面压力从17毫巴提高到54.64毫巴,纯水的沸点将从50华氏度增加到68.45华氏度,从而防止出现的小液态水池在火星赤道夏季达到的最高温度68摄氏度时沸腾。仅仅是这个稍微高一点的压力就会稍微减少昼夜温差,因为液态水会保持比地面更高的温度。
This slightly thicker atmosphere would block some of the terrible ultraviolet rays and their subsequent damaging effects.
Having a small array of liquid water pools around the surface of Mars would reduce the severity somewhat of the terrible dust storms and allow a slight bit of normal activity on the Martian surface.
Eligible soil for planting would appear beside the small liquid pools so Mars wouldn't be such a terrible place.
Increasing the Atmospheric Pressure just this small amount would make a noticeable difference reducing the terribleness of Mars.

稍微厚一点的大气层会阻挡一些可怕的紫外线及其避免随之而来的破坏性影响。
火星表面周围有小量液态水的水池会在一定程度上降低可怕的沙尘暴的的严重程度,并允许在火星表面进行一些正常的活动。
适合种植的土壤会出现在液态水池旁边,这样火星就不会是一个如此糟糕的地方。
仅仅增加少量的大气压力就会带来显著的不同,从而降低火星的可怕性。
So why hasn't any body done it yet? We've been looking at Mars for all 240,000 years of our existence; and before us and Homo Sapiens Neanderthalensis and Homo Sapiens Denisovenensis who appeared at about the same time as we did, Homo Erectus looked at Mars all the time since 1.9 Million years ago. Why didn't Homo Erectus do something about resolving the terrible conditions on Mars.
Anthropologists have discovered that there is a possibility that Homo Erectus was lazy. They have made discoveries that seem to indicate that Homo Erectus, when they were making their stone tools, didn't hike to the top of the mountain to collect the best, hardest, most durable rocks for chipping into usable tools. Homo Erectus saved themselves all these hard hikes for 1.8 million years and so through laziness did not also solve the problem of finding someway of increasing the atmospheric pressure on Mars to make Mars not so terrible.
Since Homo Erectus didn't solve this challenge we, Homo Sapiens Sapiens have to do it.

那为什么还没有人这么做呢? 在人类存在的24万年里,我们一直在观察火星; 在我们和大约与我们同时出现的尼安德特人(约12万到3万年前的冰河时期居住在欧洲及西亚的人种)和智人之前,直立人从190万年前开始就一直在观察火星。为什么直立人不做点什么来解决火星上糟糕的环境呢?
人类学家发现直立人很可能是懒惰的。他们的发现似乎表明,直立人在制作石器时,并没有爬到山顶去收集最好、最硬、最耐用的石头,以便凿成有用的工具。180万年以来,直立人一直在进行艰苦的徒步旅行,因此,由于懒惰,他们也没有解决增加火星大气压力的问题,从而使火星变得不那么可怕。
既然直立人没有解决我们的这个挑战,智人必须解决这个问题。
If we work real hard we will be able to improve the Atmospheric Pressure of Mars to 101.87 Millibars although this will take more than twice the time of the increase to 54.64 Millibars. At this higher level of increased pressure the boiling point of pure water will rise to 99.07 degrees Fahrenheit which will protect any exposed Astronauts blood from immediately boiling and killing them although even at this pressure/water boiling temperature increase astronauts will still have to be fully protected outside with pressurized space suits.
As the first increased pressure brings the Earth Altitude Equivalent down to 62,000 feet from the completely unimproved Equivalent of over 100,000 feet; the second improvement will equal the Earth Equivalent altitude of 51,500 feet, much closer to Earthly standards but still not nearly thick enough for completely unprotected Earth-Like living.
At this second plateau of improvement there would be a major improvement in the terrible nightly cold; a major improvement in the protection from terrible ultraviolet rays; a major improvement in the resistance of the Martian environment to be helplessly susceptible to the terrible global dust storms; a major improvement in the complete lack of available surface water.

如果我们真的努力工作,我们将能够把火星的大气压力提高到101.87毫巴,尽管这将需要两倍于上升到54.64毫巴的时间。在这个更高的压力下,纯水的沸点将上升99.07华氏度, 防止任何暴露在外的宇航员的血液立刻沸腾,甚至导致他们死亡,即使在这种压力/水沸腾温度升高的情况下,宇航员仍然必须得到充分保护,在外面必须穿着加压太空服。
随着第一次改善,火星压力的增加,相当于地球(大气层)高度从完全没有改进的相当于10万英尺下降到62000英尺; 第二个改进将相当于51500英尺,非常接近地球的标准,但仍然不够厚,不能完全保护类地生物。
到了第二个改善期,可怕的夜间寒冷将有重大改善; 对可怕的紫外线的防护有了重大改进;火星环境在抵御可怕的全球沙尘暴的能力得到重大改善; 有效地表水完全缺乏的情况也将重大改善。
The small pools that resulted with the first improvement would grow into larger lakes and the stream beds would begin to flow thereby creating a very noticeable hydrological cycle on Mars. The planet would begin to come back to life. Some Mars Indigenous Life would begin to make its surface appearance after being forced to sequester far underground for a billion years.
Finally the soil would begin to resemble Earthly soil with promise for planting crops although even at this intermediate stage we would not want to introduce invasive Earth Life. We would want to see the potential of the native Mars life to continue to make its comeback with our help. Possibly the original Mars Life that had been protecting itself many meters below the surface includes some delicious food bearing plants that we would want to test for toxicity to Humans and if edible nourish ourselves with original native Mars organic foods grown without pesticides.

由于第一次改进,小水池会变成更大的湖泊,河床会开始流动,从而在火星上形成一个非常明显的水文循环。这颗行星将开始恢复生机。一些火星土著生命在被迫隔离在地下十亿年之后,重新开始出现在地表。
最后,土壤将开始像地球上的土壤一样,有希望种植作物,尽管即使在这个中间阶段,我们也不想引入地球生命。我们希望看到火星原生生命的潜力,在我们的帮助下继续恢复生机。也许火星生命在地表以下许多米的地方保护着自己,包括一些美味的食用植物,我们想测试它们对人类的毒性,如果可以食用的话,我们可以用没有杀虫剂的火星原生有机食品来养活自己。
Willy Roentgen, Worked on several military missile and spacecraft programs in a testing
Question:-"Why is it so hard to colonize Mars?"
On Mars, there is no:
Water
Fuel
Sufficient Oxygen
Plants (trees, vegetation)
Minerals
other things to sustain and foster 'life' as we know it.
Everything would have to be brought from Earth at great expense.

问:"为什么殖民火星这么难?"
因为在火星上,没有:
水
燃料
充足的氧气
植物(树木、植被)
矿物质
正如我们所知,维持和促进"生命"的其他东西。
所有的东西都得花大价钱从地球运来。
Sagar Bhatia, lives in New Delhi
To answer this in one line: Simply because we are not made for mars
While there are a lot of factors that increase the cost, the biggest factor is we are not made to roam around mars. We are earthlings and we were created to live on the blue planet only. But to answer your Question, there are a few problems in colonizing mars and making it suitable for humans.

用一句话来回答这个问题: 因为我们不是为火星而生的
虽然有很多因素会增加成本,但最大的因素是我们不是为了在火星上漫游。我们是地球人,我们被创造出来只是为了生活在这个蓝色的星球上。但为了回答你的问题,在火星上殖民并使其适合人类居住存在一些问题:
Transport: Taking 2 people to moon costs a budget that a small country lives on for a year, taking tens or hundreds or thousands or millions or 7 billion will cost more than we can even imagine (This is based on the fact that we transport people there). Even if we take just a few people for a manned mission to start the process, it will cost a lot and like a lot!!
Atmosphere: The conditions on the rusty planet is quite different than what we see on our planet. The gravity is low, the atmosphere is mostly of carbon dioxide which is the opposite of what we need. The atmospheric pressure is less than that of the earth and the low pressure and gravity cannot be adjusted to in a day. The biggest problem is we cannot roam outside like we do on earth. Mars colonies should have closed structures and even a small hole in the structure can prove to be the end of human life on mars. We simply cannot survive in its atmosphere. Also, the temperature is a lot lower than that of the earth which is another concern as well.

交通:载2人登月所花费的预算相当于一个小国家一年的生活费用,而搭载几十、几百、几千、几百万或70亿人去月球所花费的费用将超出我们的想象(这是基于我们把人送到那里的事实)。即使我们只带几个人开始载人任务,也要花费很多!
大气:这颗锈迹斑斑的星球上的条件与我们在地球上看到的完全不同。火星的重力很低,大气成分主要是二氧化碳,这与我们需要的相反。大气压比地球小,低压和重力在一天之内是无法调节的。最大的问题是我们不能像在地球上那样在外面漫游。火星殖民地应该有封闭的结构,哪怕是结构上的一个小洞都可能是人类在火星上生命的终结。我们根本无法在它的大气中生存。此外,温度比地球低很多,这也是另一个问题。
Radiation: Mars does not have a protective shielding around its atmosphere which makes sure its atmosphere is thin and the solar radiation reaches the surface and is more chronic in nature than on earth. While spacesuits can help, last time I checked spacesuits did not come cheap and equipping everyone with spacesuits will be too costly.
Food and Supplies: If we believe that we send some people to mars while some stay back to watch, they can take supplies for only a finite time. Farming or growing food on mars might be possible and as many as 10 crops have been grown in soil which mimics the martian soil. It does not mean martian soil can grow food. So if we have to send supplies, it will cost a lot and a delay or failure in mission can cost the astronauts their lives.
So simply, Life on Mars may be possible, but not with the current technology. We need at least a decade or so even before we think of putting a person on mars, let alone colonize the rusty one.

辐射:火星的大气层没有防护层,这使得火星的大气层很薄,太阳辐射到达火星表面的时间比地球更长。 虽然宇航服可以提供帮助,但我上次看到宇航服并不便宜,而且为每个人配备宇航服就太贵了。
食物和补给:如果我们相信,我们把一些人送到火星,而另一些人留在后面观察,他们只能在有限的时间内获得补给。在火星上耕种或种植粮食是可能的,多达10种作物已经在模拟火星土壤中种植。这并不意味着火星土壤可以种植食物。因此,如果我们必须发送补给,这将花费大量资金,而任务的延迟或失败可能会使宇航员丧生。
简单地说,在火星上生活是可能的,但在目前的技术条件下是不可能的。我们至少需要10年左右的时间才能想到把人送上火星,更别说殖民生锈的星球了。
James Keller, owner at Retirement (2012-present)
In one word , COST , no water , no food , no air . If we did find water , we would need to build structures that could sustain a livable environment , and that would be done in stages , over 30 years , and what is the pay off .. ???

一句话:成本。火星上没有水,没有食物,没有空气。如果我们真的找到了水,我们将需要建造能够维持宜居环境的建筑,这将分阶段完成,历时超过30年,这样做的回报是什么?
Terry Savage, former Chief Information Officer at Nevada
There are technical challenges, many of which are related to flying humans. How do we protect against radiation during the trip? Will Martian gravity be enough to allow humans to function normally?
These problems all have solutions…we just don't know what some of them are yet!
The root problem is a lack of money, and a lack of will to do it. Fortunately for the species, Elon Musk is providing both!

还有一些技术上的挑战,其中很多都与人类飞行有关。我们如何在旅行中防止辐射? 火星的重力能让人类正常工作吗?
这些问题都有解决办法,只是我们还不知道其中的一些问题是什么!
根本问题是缺乏资金,以及缺乏这样做的意愿。幸运的是,埃隆·马斯克两样都做到了!
John Allan, former Retired at Jack of All Trades (2017-2021)

约翰·艾伦(John Allan),前万事通退休员工(2017-2021年)
Why would you try to Terraform some $hithole planet when we have a perfectly good terraformed planet right here ?

既然我们这里有一个完美的改造过的星球,你为什么要尝试地球化一个破洞星球呢?