新加坡建设未来农场的大胆计划
Singapore's Bold Plan to Build the Farms of the Future
译文简介
外国网友关于新加坡在城区建新型农场的讨论。
正文翻译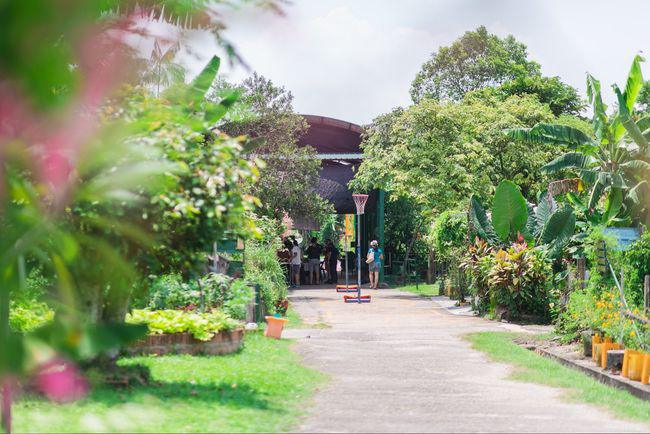 Singapore wants to produce 30% of its nutritional needs by 2030, so farms are popping up inside, outside and everywhere in between. For more by Tomorrow's Build subscribe now -
新加坡希望到 2030 年前满足其 30% 的营养需求,因此农场在内部、外部和中间的任何地方都如雨后春笋般涌现。
评论翻译
2021年7月13日

Tomorrow's Build

明天的建设
Singapore wants to produce 30% of its nutritional needs by 2030, so farms are popping up inside, outside and everywhere in between. For more by Tomorrow's Build subscribe now -

新加坡希望到 2030 年前满足其 30% 的营养需求,因此农场在内部、外部和中间的任何地方都如雨后春笋般涌现。
Taurus
I'd like to see 100 % of rooftops to be either edible plants or solar panels!

希望看到 100% 的屋顶要么是可食用植物,要么是太阳能电池板!
S Griffin
That's fantastic!!
Thank you

这太妙了!! 谢谢
UNITED USA 2020 & BEYOND
Every town city state and country in the world should be doing this... Much respect to signapore:-) :-) :-)

世界上每个城市州和国家都应该这样做......非常尊重新加坡:-) :-) :-)
O S
What is with the need to wear full PPE around growing food? The food is not poisonous. It's food! Nor are you going to infect it with anything from the human body.

在种植食物周围需要穿戴全套个人防护装备吗,有什么影响?食物没有毒。是食物!你也不会用人体中的什么东西感染它。
原创翻译:龙腾网 http://www.ltaaa.cn 转载请注明出处


FERN
Singapore has made its fortune by copying the best practices all over thhe word.
,in 2021, they are forced to venture into silly ideas ... and go for diminishing returns.Welcome to the club of "advanced" countries forcing to test the silliest ideas.

新加坡通过复制世界各地的最佳经验而发了财。 在 2021 年,他们被迫冒险尝试愚蠢的想法......并追求收益递减。欢迎来到"先进"国家俱乐部,他们被迫测试最愚蠢的想法。
SOUTHINDIAREALESTATE VASSU
We give real estate service in and around BANGALORE, IT HUB of India.just 50 kms from city@15 lakhs per acre(20000 dollars).you can reach any part of city with in 45 minutes from this land.suitable for any green based business activities.Thank you.

我们在印度 IT 中心班加罗尔及其周边地区提供房地产服务。距城市仅 50 公里@每英亩 150 万美元(20000 美元)。您可以在 45 分钟内从这片土地到达城市的任何部分。适用于任何形式的绿色基础商业活动。谢谢。
Maika
Very impressive with your documentary. Singapore becomes a green city in the future.

你的纪录片给人留下了深刻的印象。新加坡将成为未来的绿色城市。
原创翻译:龙腾网 http://www.ltaaa.cn 转载请注明出处


Ahmad Shauki
The greatest contribution by the late LKY to Singapore and Singaporeans was leaving the Federation of Malaysia. Imagine Singapore in Malaysia till today and ask yourself, 'Will Singapore be what she is today ?'

已故的李光耀对新加坡和新加坡人的最大贡献是离开马来西亚联邦。想象一下如果今天新加坡仍在马来西亚,问问自己,"新加坡会成为今天的样子吗?"
原创翻译:龙腾网 http://www.ltaaa.cn 转载请注明出处


Cher Dren
We need to benchmark on the good practices of Singapore in becoming sustainable in the future...

我们需要以新加坡的良好实践为基准,以在未来实现可持续发展……
tommy smith
O, you said there's was/is a pandemic, that's bullshit and the numbers don't add up

哦,你说这正在发生大流行病,那是胡说八道而且数据没有统计
GENERAL KNOWLEDGE
i love how the government of singapore think and strategize

我喜欢新加坡政思考和制定战略方式
TEDDY MOON
just make man made islands and turn them into farms. like the dumb palm shaped islands in the middle east where no one lives in them and the water is stagnant and smells. lol

制造人造岛屿并将它们变成农场。就像中东那些没有人居住的棕榈树岛屿,水是不流动的,有臭味。哈哈
Imagine Motions
Yeah but singapore has this arrogant vibe.

是的,但新加坡有这种自负的氛围。
原创翻译:龙腾网 http://www.ltaaa.cn 转载请注明出处


victor the achiever
To avoid all these expensive farming let's not built cities on good soils

为了避免建造这些昂贵的农业,我们不要在肥沃的土壤上建造城市
Blessed OwO
This is an impenetrable fortress designed to establish world dominance. Just think when the US can't invade your jungle because the trees speak Vietnamese so you make the entire geography into greens.

这是一座坚不可摧的堡垒,旨在建立世界统治地位。试想一下,美国无法入侵您的丛林时,因为树木会说越南语,所以您将整个地理环境变成了绿色。
Ry Hol
Meanwhile in Florida. We are literally slashing and burning vegetation to build parking lots

与此同时在佛罗里达州。我们实际上是在通过砍伐和焚烧植被来建造停车场
Iqbal Syed
Maintenance of soil fertility would be a challenge. I am very curious how would the soil in those farms would be replenished. Of course aquaponics solves that..

保持土壤肥力将是一个挑战。我很好奇这些农场的土壤将如何得到补充。当然,鱼菜共生解决了..
Kanal7 Movies
Urban farming is the future

城市农业是未来
ItsSerialBoX
These people will breed themselves straight into starvation. Show the slums, not the bullshit

这些人会直接饿死。展示一下贫民窟,而不是胡说八道
原创翻译:龙腾网 http://www.ltaaa.cn 转载请注明出处


Ryan Yeo
Oh man… meanwhile people are literally going to Johor Bahru to buy things at lower prices…

哦,伙计……与此同时,人们真的会去柔佛州新山以更低的价格购买东西……
Jeff Tomasello
Wonder if anyone is looking at depopulating the city by 10% and tearing down some of the buildings to create natural landscapes to farm. That would be the best green solution. The idea of millions of people crammed into a small geographic area is becoming archaic.

想知道是否有人正在考虑将城市人口减少 10% 并拆除一些建筑物创造自然景观以供耕种。那将是最好的绿色解决方案。数百万人挤在一个小小区域的想法正在变得过时
Austin Harding
Finally! a realistic goal that will actually effect the future for the better, because unless we plan on regulating population increase, mans future will be faced not with climate change, but with arable land shortages, you really think goals of carbon neutrality will actually work? the rate of population increase and development, and thus more emissions, is growing exponentially higher than our efforts at neutrality. that means that before we moved to any renewables at all, the world was emitting less co2 than it is today, thus even with all our efforts, the future will still see higher co2 emissions thats why its an impossible goal. but think about, maybe that was the intention? what better way to keep the public preoccupied an distracted than to give them a goal that will can last indefinitely, they almost had it with the war on terrorism, and have now perfected it with the war on covid, they work diligently to keep you distracted and in fear. every society needs an enemy to keep it together, to function (look it up), tis how that society defines itself, identifies itself. After the cold war, they spent a decade trying to invent a new enemy, terrorism, climate change, covid, crazy how the public eates it right up without question; nobody has critical thinking skills anymore :(

最后!一个现实的目标,实际上会对未来产生更好的影响,因为除非我们有计划的控制人口增长,否则人类的未来将面临的不是气候变化,而是耕地短缺,你真的认为碳中和的目标真的会奏效吗?人口增长和发展的速度以及由此产生的排放量的增长速度比我们为保持中立所做的努力要高得多。这意味着在我们完全转向任何可再生能源之前,世界的二氧化碳排放量比现在少,因此即使我们付出了所有努力,未来的二氧化碳排放量仍然会更高,就是为什么它是一个不可能实现的目标。但是想想,也许这就是意图?有什么比给他们一个可以无限期地持续下去的目标更好的让公众分心的方法呢?他们几乎在反恐战争中就已经做到了,现在已经通过对新冠病毒的战争完善了它,他们努力工作,让你在恐惧中分心。每个社会需要一个敌人来将其团结在一起,发挥作用,这就是社会如何定义自己,识别自己的方式。 冷战结束后,他们花了十年时间试图创造一个新的敌人,恐怖主义,气候变化,covid,疯狂的公众如何毫无疑问地认可它; 没有人有批判性思维技能了:(
hawaiisunfun
I think one point missed is doing resource-efficient crops like microgreens. It's small for small spaces and nutritionally packed, quick to grow, and resource-efficient.

我认为漏掉的一点是应该种植像微型蔬菜这样的资源节约型作物。它体积小,适合小空间,营养丰富,生长快,资源高效。
LenovoT T
They don't have land they are trying new ways and producing green environments, India it is a agricultural country but the government is making sure to continuously trouble farmers to give away farming and their land to urbanisation and big corporates... Sad reality

他们没有土地,他们正在尝试新的方式去创造绿色环境,印度是一个农业国家,但政府正在不断要求农民将农业和他们的土地交给城市化和大企业......可悲的现实
原创翻译:龙腾网 http://www.ltaaa.cn 转载请注明出处


hawaiisunfun
I really do believe in growing at home. It's really great doing to hydroponically or aeroponically, and vertically if possible, which is what I've done before.

我真的相信在家里种植。水培或气培,如果可能的话,垂直种植真的很棒,这就是我以前做过的。。
Tom Wallace
The taste of food grown with hydroponics is quite different..sterile, I would say is the closest adjatiave…and if is fortified with vitamins, it will be like eating white bread, which has had all the minerals and vitamins removed in the milling process.

用水培法种植的食物的味道完全不同......无菌,我能想到的最接近的形容词......如果添加了维生素,就像吃白面包一样,它在碾磨过程中去除了所有矿物质和维生素.
原创翻译:龙腾网 http://www.ltaaa.cn 转载请注明出处


Urban Dwellers
So the plan is to grow enough food for 30% of the population?
And let 70% of the population starve to death?
Wow! Wouldn't what to live there unless you're filthy rich.

那么计划是为 30% 的人口种植足够的食物吗? 让70%的人口饿死? 哇!除非你很有钱,否则不会住在那里。
MageThief
Every time I see some thing from Singapore the more impressed I get.

每次我看到新加坡的一些事情时,都会给我留下更深刻的印象。
Dante McEdgelord
this should have been done world wide decades ago, but we need to keep the rich rich and the poor dying to keep the status quo

这应该在几十年前就在世界范围内完成,但我们需要让富人保持富有,让穷人垂死以维持现状
soap
just virtue signaling. support green and stuff while sg investments destroying forests in sea. sg still dependant of its neighbors. always will be.

是个美好信号。支持绿色和其他东西,而新加坡投资破坏了海洋中的森林。新加坡仍然依赖于它的邻居。永远会是。
Cole Tanner
This is such a non-issue..It's a metro area nation connected by 2 bridges and countless barges and boats from Malaysia. It's like doing a story on if the island of Manhattan is going to be able to feed it's population with no farmland ??

这不是问题。它是一个都市区国家,由 2 座桥梁和无数来自马来西亚的驳船和船只连接。这就像在讲述曼哈顿岛是否能够在没有农田的情况下养活它的人口??
Jim Cummings
how much electricity must they produce for gardens which the sun could grow for free? putting food security into a system 100% based on increasingly higher & higher energy costs makes no sense for 50yrs. from now, this is a fad for people who live in cities, looks like they are solving one problem by introducing another, any food system based on anything but the sun is a scam for investors to make a quick $$$,

他们必须为在阳光下可以自由生长的花园生产多少电力?将粮食安全 100% 纳入一个基于越来越高的能源成本的系统中,对于 50 年来说毫无意义。从现在开始,这对居住在城市的人们来说是一种时尚,看来他们正在通过引入另一个问题来解决一个问题,任何基于太阳以外的任何食物系统都是投资者快速赚取钱财的骗局,
Metatron
The ONLY WAY we should be growing food is in organic living soil under the sun, anything else is bs

我们应该种植食物的唯一方法是在阳光下的有机肥沃土壤中,其他任何东西都是骗人的。
Gomer Pyle
Pretty sure cities are just cancer on the surface of the earth and trying to add farmland ontop of that is actually counter productive to logistics in general, you are now going to constantly be importing dirt, nutrients, and other supplies which doesnt make sense at all.
How about building apropriate agriculture sectors instead of literally working backwards in the most expensive manner known to man?

可以肯定的是,城市只是地球表面的癌症,试图在其上增加农田实际上与一般规律适得其反,您现在将不断进口泥土、养分和其他毫无意义的供应品. 如何建立适当的农业部门,而不是以人类已知的最昂贵的方式做倒退工作?
R E
We've been doing these types of gardens in the US for a long time and the Icelandic government actually has farms like this in Iceland because it's so cold they need to be able to grow food year round this has been going on for years Singapore didn't invent anything

我们在美国很长一段时间一直在做这种类型的花园,冰岛政府实际上也有这样的农场,因为它太冷了,他们需要能够全年种植食物,这已经持续多年了,新加坡没有发明任何东西
meatKog
I wish the US would pull its head out of its ass and do something like this. I wold jump at this!

我希望美国能把它的脑袋从屁股里拿出来做这样的事情。我会跳在上面!
Xian Seah
Trying to meet nutritional needs, while the inputs are synthetic agrochemicals. Delusional.

试图满足营养需求,同时投入的是合成农用化学品。妄想。
Alina Itzal
Meanwhile in the USA... Nothing new, nothing built, banned abortions, can't have health care... America is starting to suck the big one...

与此同时,在美国……没有什么新东西,没有建造,禁止堕胎,不能有医疗保健……美国开始吸(毒)大了……
Money printer go brr
"But only if everyone gets on board"
These people are so addicted to saying this idiotic sentence.
I think it's worse than an alcohol addiction. And more pathetic too.

"但前提是每个人都加入" 这些人都沉迷于说这句白痴的话。 我认为这比酒精成瘾更糟糕。而且更可怜。
原创翻译:龙腾网 http://www.ltaaa.cn 转载请注明出处


Reason
Don't let these fool you. This is singapore we're talking about: One of the most expensive cities in the world - I imagine only rich kids would be able to buy the produce from those rooftops

不要让这些愚弄你。这是我们在谈论的新加坡:世界上最昂贵的城市之一 - 我想只有富人才能从这些屋顶购买产品
Alex
This last dude's talking about "how much protein" - like compared to carbohydrates/acre - I hate to break it to you buddy but not much protein at all LOL

最后一个家伙在谈论"多少蛋白质"——就像与碳水化合物/英亩相比——我不想把它告诉你,伙计,但根本没有多少蛋白质,哈哈
Cryil 28
Singapore is the perfect place to develop urban farming and vertical farms imo, if they keep on improving the system, they can be a world leader in the industry.

新加坡是发展城市农业和垂直农场的理想之地,如果他们不断改进系统,他们可以成为该行业的世界领先者。
Shiro
The other side of food production is food waste. There is an egregious amount of food waste in the world enough so that it could probably end world hunger.

食物生产的另一面是食物浪费。世界上有大量的食物浪费,以至于它可能会终结世界饥饿。
Selwyn Rodda
Absolutely cruel. Fish farms are deeply problematic as well. But the rest.... excellent and totally necessary. Every city should be doing this. Well done Singapore!

养鱼场也存在严重问题。但其余的......非常好,完全必要。每个城市都应该这样做。新加坡干得好!
原创翻译:龙腾网 http://www.ltaaa.cn 转载请注明出处


acash93
LUSH seems like a good idea, BUT it is a real maintenance issue if the plant roots start to dig into the building structure or the vines creep over areas which can't be normally accessed by maintenance crew.

似乎是个好主意,但如果植物根部开始深入建筑结构或藤蔓爬过维护人员通常无法进入的区域,这将成为一个维护上的问题。
Jurien Huggins
This is so cool! And this also gives me so much hope for the future

这太酷了!这也让我对未来充满希望
SmashEX Entertainment
Way cheaper and better for environment would be to outsource food if you have no land. Urban farming will be mostly grass like lettuce and spinach, which is not a real food and still never be enough to feed even 5% of city population anyway.

如果你没有土地,更便宜和更好的做法是外包食物。城市农业将生产主要是像生菜和菠菜这样的草,这不是真正的食物,无论如何仍然不足以养活 5% 的城市人口。
Isabella Leo
The secret of your future is hidden in your daily routine. Successful people do daily what the unsuccessful only do occasionally

你未来的秘密隐藏在你的日常生活中。成功的人每天都做不成功的人偶尔做的事
Mohammad Jahangir alam
Can I have the contact details of person you interviewed? I am trying to do the same in my city!

我可以告诉你采访的人的联系方式吗?我正在尝试在我的城市做同样的事情!
ben rosauro
Singapore government focuses on improving their country, while PH are busy stealing pilipinos money. ????. Wake up PH government hope you watch this.

新加坡政府专注于改善他们的国家,而PH则忙于窃取菲律宾人的钱。唤醒PH政府希望你注意这一点。
Bangkok Sharing
I am not interested in Singaporean way, just follow american way, outed.

我对新加坡的方式不感兴趣,只是跟随美国的方式,出局了。
Steph Suarez
As always, Singapore is amazing. Urban gardening is relevant to every country as it forwards to advanced technology and buildings.

和以前一样,新加坡是惊人的。随着城市园艺向先进技术和建筑的发展,它与每个国家都息息相关
prakash rao
Better late than never. Times have changed and it cannot be solely service based island nation. Good luck

迟到总比不到好。时代变了,它不能仅仅服务岛国。祝你好运
Rickesh Patel
If you can't provide for your own, then you are leaving yourself reliant on outside help.
Best to control your own destiny, how can a state survive long term like that? ??

如果你不能自给自足,那你就只能依赖外界的帮助了。 最好能掌握自己的命运,这样的国家怎么能长久存在? ??
Taras Yatsiv
It seems these farms produce green leaves only. And packaging maschines again pack vegitables in plastic foil that is absolutelly far from ecology and green farming. Also people love to eat meat and there is nothing to replace this tasty habbit.

这些农场似乎只生产绿叶。包装机再次用塑料箔包装蔬菜,这绝对背离生态和绿色农业。人们也喜欢吃肉,没有什么可以取代这种饮食习惯。
Aily 93
less land to increase production study plant dna engineering mybe we can shorten the time of growth ...long ago in china can only produce paddy one yield in each year however with new seed it can increase yield by twice now china revive from hunger..what are we not yet discover in the world of agriculture.

减少土地增加产量 研究植物DNA工程 可能我们可以缩短(植物)生长时间......很久以前,中国每年只能生产一季水稻产量,但是有了新种子,它可以使产量增加两倍 现在中国摆脱了饥饿..我们在农业世界中仍未有所改变。
原创翻译:龙腾网 http://www.ltaaa.cn 转载请注明出处


Terry Collins
I live in Plymouth and I'm saddened that in comparison to other countries of a similar size and surrounded by water we don't put our natural resources like many others do to feed our population home grown food instead of importing so much????????it's very sad Mmmmmmm as one person who lived before the Second World War pointed out "We've got too lazy"

我住在普利茅斯,我感到难过的是,与其他面积相似且四面环水的国家相比,我们没有像许多其他国家那样将自然资源用于养活我们的人口,而不是进口这么多(食品)??这是非常可悲的,一个生活在第二次世界大战之前的人指出"我们太懒了"
hard worker
Food target is quantity not quality,people will end up eating worse then animals,they talk about climate scam including pollution and guess what you will eat lettuce growing behind the car exhaust on top carpark,healthy food can be grown only on soil and without using herbicides and plants artificial foods,imagine 70 or 80 years later when we will have only new generation of people who don't know anything about real life, quality and taste of healthy foods,world will become very very silly

食物的目标是数量而不是质量,人们最终会吃得比动物更糟,他们谈论气候骗局,包括污染,猜猜你会吃什么生长在顶层停车场的汽车尾气后面的生菜,健康食品只能在土壤上种植,而无需使用除草剂和植物人造食品,想象一下 70 或 80 年后,当我们只有新一代对健康食品的真实生活、质量和味道一无所知时,世界将变得非常非常可笑。
Abraham
I envision this in America. Everything is getting centralized. The elite is killing the small farmers. Cities are major jail for humanity. People are locked in their wages as the primary way of survival. We need more urban farming/gardening. That way we will fight the increasing food prices for GMO and Organic. Humans have forgot what to do with a piece of soil, seed and water. They learn quite quickly to use the latest phone but when it comes to the "origins", they are either lazy or show 0 interest.

我在美国设想这一点。一切都在变得集中。精英正在杀死小农民。城市是人类的主要监狱。人们被锁定在以工资作为主要的生存方式中。我们需要更多的城市农业/园艺。这样,我们将与转基因和有机食品价格上涨作斗争。人类已经忘记了如何处理一块土壤、种子和水。他们很快就学会了使用最新的手机,但是当谈到"起源"时,他们要么懒惰,要么表现出毫无兴趣。
Dianna Skare
This old woman can say with Complete Honesty Of Experience & Knowledge > Water & Chemical Replacement for Hydroponics CAN NOT Replace EARTH for Growing HEALTHY Food WITH *Pesticide FREE* "Companion Planting

这位老妇人可以用完全诚实的经验和知识说 > 水和化学替代品不能用*无农药*"同生种植"代替地球来种植健康食品
Twisted Tea
wish that so-called "green deal" in the USA was something including this

希望美国所谓的"绿色交易"包括这个
M17
Places like Singapore and Dubai are designed like there is no tomorrow and development go in one direction. Totally self absorbed. Disconnect from nature and rely on technology. What could go wrong?! Good luck with that!

像新加坡和迪拜这样的地方被设计成没有明天,发展都是朝着一个方向发展的。完全自我陶醉。脱离自然,依靠技术。会出什么问题?!祝你好运!
Akram Din
When I was growing up in Singapore we raised our own chicken, ducks, turkey, goats and even had a few cows for milk. Our little farmhouse was acquired by the govt and we had to move to a modern apartment building in 1984.

我在新加坡长大的时候,我们自己养鸡、鸭、火鸡、山羊,甚至还养了几头奶牛。我们的小农舍被政府收购,我们不得不在 1984 年搬到一栋现代化的公寓楼
mardmard
Very romantic. Using a human to plant a vegetable is like using your smartphone as a torch / flashlight. It's a total waste of resources. There is stuff that you can't grow on a roof top, and that also comes through the supply chain. We need a resilient global supply chain and work together as a species. We need fast and environmentally friendly transportation to ship the lettuce from another continent in 6 hours to the local store in Singapore. Not go back to planting in the living room, other than for aesthetic purposes or to make the environment more human-friendly.

很浪漫。使用人类种植蔬菜就像使用智能手机作为手电筒/手电筒一样。这完全是对资源的浪费。有些东西你不能在屋顶上种植,而是来自供应链。我们需要一个有弹性的全球供应链。我们需要快速、环保的运输方式,才能在 6 小时内将生菜从另一个大陆运送到新加坡的当地商店。除了出于美学目的或使环境更加人性化之外,不要回到客厅种植(的方式)。
FCV19
Growing weed in your spare closet is a fun hobby. Imagine if everyone did this but with all the different kinds of vegetables and then started a farmers market every weekend.

在您的备用壁橱中种植杂草是一项有趣的爱好。想象一下,如果每个人都这样做,会有不同种类的蔬菜,然后每个周末都开农贸市场。
kok wah tan
Sad to see Spore planting on roof top. I am from Malaysia, we had endless land, but no govt subsidize, for Agricultural, and most are import, the traders and middle man make tons of money, so who disadvantage!? .. The consumer!!! Bastard corrupted govt; !!

很遗憾看到孢子种植在屋顶上。我来自马来西亚,我们有无尽的土地,但没有政府补贴,农业,大部分是进口的,贸易商和中间商赚了很多钱,谁吃亏!? ..消费者!!!混蛋腐败的政府; !!
Shihrt Thapa
People eat such products which proudces using chemical only therefore whn plague come such as corono,they die.i really hate now foreign idea n products whic degrade health.

人们吃这样的产品,这些产品只使用化学物质,因此当瘟疫来临时,如新冠病毒,他们会死。我真的很讨厌现在外国的想法和降低健康的产品。
Tito Tim Travels
I love seeing urban farms, but they need to work on getting the costs down. Most people are not going to be willing, or able, to pay more for the food.

我喜欢看到城市农场,但他们需要努力降低成本。大多数人不会愿意或无法为食物支付更多费用。
obxtive Truth
It's omitting a lot of important details, such as where does soil come from(if they use soil at all), how is soil kept fertile, does the UV lights really fully replace sunlight, does micronutrition value degrade(science so far cannot confidently conclude we understand every micronutrition from food sources), what cannot be plated in such farms(I picture many). It's a pretty fancy hippie concept, but in term of real feasibility I won't hold my breath.

它忽略了许多重要的细节,例如土壤从何而来(如果他们使用土壤),土壤如何保持肥沃,紫外线是否真的完全取代了阳光,微量营养价值是否会降低(科学到目前为止还不能自信地得出结论)我们了解食物来源的每一种微量营养素,这些农场不能提供什么(我想象很多)。这是一个非常花哨的嬉皮概念,但就真正的可行性而言,我不会屏住呼吸。
German Tribe / Deutscher Stamm
You idiots! Do you really believe, this is good for your health?
Did you know, that the quantity of Vitamins went down to 17% of the quantity from 1950 by using industrial growing-methods?
Don′t let you fool yourself.

你们这些白痴!你真的相信,这对你的健康有好处吗? 您知道吗,通过使用工业生长方法,维生素的数量从 1950 年下降到了 17% 的数量? 不要让你欺骗自己。
No Chill
You know this is phenomal, but who is it for? Singapore is all but dead! Why? Singaporeans aren't having children, they have like one of the lowest fertility rates, I think they're like 2nd or 3rd from the bottom, there rate is something like 1.1 or 1.0, and it's been this way since the 90s! It doesn't look like it's going to change so in 10-20 years, when women can have no more children what will they do? Immigrate? Immigrate a people that don't understand how hard they worked to build the country to that standard.

你知道这是非凡的(想法),但它是给谁的?新加坡快死了!为什么?新加坡人没有孩子,他们是生育率最低的国家之一,我认为他们排在倒数第二或第三位,大约是 1.1 或 1.0,自 90 年代以来一直如此!看起来它不会在 10 到 20 年内改变,当女性不能再要孩子时,她们会做什么?移民?移民一个不明白他们为将国家建设到那个标准而付出了多少努力的人。
NoMercyNoDragonForYou
A plan that will make the dull or plain looking concrete structures look much better and DIFFERENT too. Although the people still have to buy and EAT these plants too. So the farmers and local stores have to make sure that they succeed on that.

一个使沉闷或普通的混凝土结构看起来是一个更好和不同的计划。尽管人们仍然必须购买和食用这些植物。因此,农民和当地商店必须确保他们在这方面取得成功。
E
Thats going to be a massive industry in the coming years! Imagine every city in the world is able to supply up to 30% of its own produce. Imagine the amount of land we will reclaim for livestock agriculture and green spaces!

未来几年,这将是一个庞大的行业!想象一下,世界上每个城市都能够供应多达 30% 的自己的产品。想象一下我们将为畜牧业和绿地开垦的土地数量!
Steve Knows
I don't know, but there is nothing really new. I have already seen this type of gardening over 10 years ago. And still most of them only grow Salat, Herbs and Spinach. Where are the Tomatoes, Peppers, Potatoes, Rice, Corn and Grains?

我不知道,但没有什么新东西。10 多年前,我已经见过这种类型的园艺。他们中的大多数人仍然只种植沙拉、香草和菠菜。西红柿、辣椒、土豆、大米、玉米和谷物在哪里?
DodoLand
Poles of road signs/ lights made out of iron exterior and filled with earth could be used to harbour strawberries/ tomatoes/ Peas. How cool would that be?

由铁质外墙制成并装满泥土的路标/灯杆可用于存放草莓/西红柿/豌豆。那会有多酷?
Ali Labeeb Alkok
I think more of a focus on edible tree greens would work better. Less recourses and many of those produce leaves year round. Most are tropical and native to Asia as well. It would be easier than constant short term vegetables that do not do well in hot humid tropical environments.

我认为更多地关注可食用的绿色植物会更好。资源较少。大多数是热带的,也原产于亚洲。这比在炎热潮湿的热带环境中表现不佳的持续短期蔬菜更容易(种植)。
Zulkefli Shahadan
That only imagination cause Singapore dont have much lang and tha aging people becomes many many

唯一的想象是因为新加坡没有太多的土地,而且老年人越来越多,所以新加坡人会很拥挤!
Gyorgy Angelkott Bocz
i'm totally fed up with all these programs claiming solving urban food production through either wall/rooftop gardening aquaponics or such. the thing nobody talks about is that these technologies are only delivering leaf vegetables at best cucumbers, peppers and tomatoes and such! be bloody realistic! CEREALS, RICE, POTATOES! that's the bulk food we need and as of today and foreseeable future that's produced on friland! reduced urban vulnerability - yes, closer to consumer production - yes, cheaper - maybe. but certainlky NOT a solution to urban food related issues...!

我完全厌倦了所有这些声称通过墙壁/屋顶园艺水培系统等解决城市粮食生产的方式。没有人谈论的是,这些技术最多只能提供黄瓜、辣椒和西红柿等叶类蔬菜!现实点!谷物,大米,土豆!这就是我们需要的散装食品,并且在今天和可预见的未来都是在土地里生产的!降低城市脆弱性 - 是的,更接近消费者生产 - 是的,更便宜 - 也许。但肯定不是城市食品相关问题的解决方案......!
yongshan koh
ok, can plant but must label well or teach us how to get rid of exhaust gas residue and poison in the vegetables.

好的,可以种植,但必须做好标签或教我们如何去除蔬菜中的废气残留物和毒素。
原创翻译:龙腾网 http://www.ltaaa.cn 转载请注明出处


Kirk Wilson
Like you said in the video, it is very specific foods you get from these farms. 5 products....so basicly the point is if you dont just eat lettuce for every meal this wont work, lettuce is the backbone of this movement.

就像您在视频中所说的那样,您从这些农场获得的食物非常特殊。 5 种产品....所以基本上重点是如果你不是每顿饭都吃生菜这行不通,生菜是这项运动的(主要产品)。
Bao Bao
In 2020 120million more people suffer of hunger and you think about to bring the foad and energy production in the citz center?! There are already effcient (energy & cost) vertical farming solutions for landscape !!! Maby not sexy for people who think they are the good once - wake up !!!

2020 年还有 1.2 亿人遭受饥饿,您是否考虑将粮食和能源生产带到城市中心?!已经有针对景观的高效(能源和成本)垂直农业解决方案!!!可能对于那些认为自己曾经是好人的人来说并不那么吸引人 - 醒醒!!!
geo mundi
these are not sustainable or moves towards future; except that in future desperation will make people attempt to grow things everywhere in an attempt not to starve. How many calories are in those sci fi projects; very few. Always bs crops like lettuce, kale, etc. Try growing wheat, corn, potatoes, etc. like that. You people know nothing about farming; the number of humans on earth and lack of resources will only spell the result the world needs. These are just eye candy to appease people who don't understand ag, and get money for bs projects.

这些是不可持续的或能走向未来的项目;只是未来的绝望会让人们试图到处种植东西,以免饿死。那些科幻项目有多少卡路里;很少。总是种植生菜、羽衣甘蓝等作物。尝试种植小麦、玉米、土豆等。你们这些人对农业一无所知;地球上的人类数量和资源的缺乏只会说明世界需要的结果。这些只是安抚不懂农业的人的眼睛糖果,并为 bs 项目赚钱。
Bimal Rathnagoda
I have been to Singapore, and also I love Singapore. To my best understanding, there are about 60 offshore islands around the main island. I think "Sentosa" is the biggest out of these islands. I think these islands could be used in expanding their agro-based targets because technology is well developed in modern world, so I think some hi-tech methods could be used to connect some islands close-by and form a wider area for agriculture purposes.

我去过新加坡,也很喜欢新加坡。据我所知,主岛周围大约有60个近海岛屿。我认为"圣淘沙"是这些岛屿中最大的。我认为这些岛屿可以用于扩大他们的农业目标,因为现代世界的技术非常发达,所以我认为可以使用一些高科技方法将附近的一些岛屿连接起来,形成更大的农业区域。
Jack Ng
I think it would be quite costly to plant vegetable in Singapore because the water is bought from Malaysia. Hence, i suggest the developer to consider having a well underneath the foundation. In my opinion, this might strengthen the base as the water is pumped out from the deeper of the ground, leaving a dryer and comparatively more solid soil. Alternatively, I think we might consider using the waste water to plant non edible green.
P/s : what about using the sea water? Cause Singapore is an island...

我认为在新加坡种植蔬菜会相当昂贵,因为水是从马来西亚购买的。因此,我建议开发商考虑在地基下建一口井。在我看来,当水从地下深处抽出时,这可能会强化地基,留下干燥和相对更坚固的土壤。或者,我想我们可以考虑用废水种植不可食用的绿色植物。 P/s : 用海水怎么样?因为新加坡是一个岛...
Gaudencio Alejandre
I'd say Singapore is one of leading pioneers of modern Urban farming. Double thumbs up for them. I hope my country could have this kind of modern approach.

我想说新加坡是现代都市农业的先驱之一。为他们竖起大拇指。我希望我的国家能有这种现代方法哦。
Ратмир Курманов
This is how free market destroys technological progress. Imported food is cheaper. I'd suggest to open huge cashback for Singapore citizens for buying urban food from the government. These technologies would make fortune by themselves. And by the way urban food can save Singapore from horrible famine if major financial crisis will occur.

这就是自由市场破坏技术进步的方式。进口食品更便宜。我建议为新加坡公民从政府购买城市(种植的)食品提供巨额现金返还。如果发生重大金融危机,城市食品可以使新加坡免于可怕的饥荒。
Shane Martin
Farms of the future will contain human livestock managed by AI. Owned by the cockroaches evolving under my neighbours house. They are on a a steady diet of Skill Share. Even when he is not home. But when I am at home and can hear it at 10000dB. They are becoming intelligent, organised, aware. Its only a matter of time till the take over the bond market and institute a regime of debt slavery orchestrated by a well disguised AI development program.

未来的农场将包含由人工智能管理的人类牲畜。由在我邻居家下面进化的蟑螂拥有。他们一直在坚持技能分享。即使他不在家。但是当我在家并且可以听到10000dB的声音时。他们变得聪明、有条理、有意识。接管债券市场并建立一个由伪装得很好的人工智能开发计划精心策划的债务奴役制度只是时间问题。
HERO FOREVER
So much talk. Too much effort/enforcement required for food sustainability for them, even 30%. This all sounds good but come on, let's look at reality. People with Businesses and car parks aren't going to want to deal with all the crap of gardening and all the insane maintenance. The maintenance and attention required to farm in insane. They need to get there heads out of the clouds. If they really want to effectively improve food sustainability, they need actual large scale farms. There 300sqft.< areas every few blocks isn't going to feed many people at all. People need to think realistically. All these ambitious high in the sky imaginary numbers make my head spin.

说了这么多。他们的食品可持续性需要太多的努力/强制执行,达到30%。这一切听起来不错,但来吧,让我们看看现实。有企业和停车场的人不会想要处理园艺垃圾和所有(让人)发狂的维护。他们需要走出云端。如果他们真的想有效地提高食品可持续性,那么他们需要真正的大型农场。有 300 平方英尺。< 每隔几个街区的(种植)区域根本养活不了很多人。人们需要现实地思考。所有这些雄心勃勃的虚数都让我头晕目眩。
rikimiki
Hydroponic depends on the nutrients added to the water. It's great for vertical farming but not really as organic as farming on the ground. All documentaries forget to say this little big detail: plants don't grow with only water.

水培取决于添加到水中的营养物质。它非常适合垂直农业,但并不像地面农业那样有机。所有的纪录片都忘记说这个小细节:植物不能只靠水生长。
Vasanth Pragash
You need to be very careful with these, some developers had tried it in China. The buildings are unlivable and filled with insects, you need to maintain and counter the insects(mosquitoes) aggressively else you can get disease epidemics.
However the hydrophonics and vertical farms are really a good idea.

需要非常小心这些,一些开发者已经在中国尝试过。建筑物内将不适合居住并且会充满昆虫,您需要积极维护和对抗昆虫(蚊子),否则您可能会流行疾病。 然而,水培和垂直农场确实是一个好主意。
Shubhi Patil
That's a good plan , hope other countries also adapt this method. Maybe if the prices are reasonable, more customers will follow up. There are so many types of vertical/ indoor farming technology to learn but I have not seen anyone growing different types of grains. Is it possible to grow grains with new technologies?

这是一个很好的计划,希望其他国家也采用这种方法。也许如果价格合理,会有更多的客户跟进。有很多类型的垂直/室内农业技术需要学习,但我还没有看到有人种植不同类型的谷物。是否有可能用新技术种植谷物?
原创翻译:龙腾网 http://www.ltaaa.cn 转载请注明出处


Jeremy Thelen
Also, it's amazing what the government can do when it gives to something good.
We all need food, and the vegetation helps with decreasing carbon and has its own beauty.

此外,当政府给予一些好的东西时,它可以做的事情令人惊讶。 我们都需要食物,植被有助于减少碳排放,并展示了自己的美丽。
Johnjoe Nugent
I lived in a very dense neighbourhood in Barcelona, 20,000 ppkm2, there were so many highrise buildings with wasted rooftop space, if every rooftop was covered in greenery, flowers or vegetables, it would provide some food, reduce pollution and possibly bring back some wild birds. Barcelona is a beautiful city but it really lacks greenspaces. Parc de la Ciutadella is the biggest park in the centre of the city at 70 acres, in a smaller city, with a smaller population, Dublin, you have Phoenix park which is 1750 acres which is 25x bigger. Every city should have a 100 acre park or some pedestrianised streets with lots of greenery and trees

我住在巴塞罗那一个非常密集的街区,20,000平方公里,有这么多的高层建筑,浪费了的屋顶空间,如果每个屋顶都被绿树,鲜花或蔬菜覆盖,它可以提供一些食物,减少污染,并可能带回一些野生鸟类。巴塞罗那是一座美丽的城市,但它确实缺乏绿地。 Parc de la Ciutadella 是市中心最大的公园,占地 70 英亩,在人口较少的小城市都柏林,凤凰公园占地 1750 英亩,是其 25 倍。每个城市都应该有一个 100 英亩的公园或一些绿树成荫的步行街
aMUSEher
In the early 2000's, I was a guest on a top floor at a hotel on the Upper East side of Manhattan. As I looked out the window, facing downtown, I couldn't help but notice all of the empty flat rooftops. I thought, what a perfect set up for urban farms. It is great to see that someone had a similar idea and is actually activating the concept to realit

在 2000 年代初期,我是曼哈顿上东区一家酒店顶层的客人。当我向窗外望去,面向市中心时,我注意一切平屋顶都是空荡荡的。我想,对于城市农场来说,这是多么完美的地方啊。很高兴看到有人有类似的想法并且实际上正在推动实现这个想法。
mwj5368
Could Singapore, being close to the ocean, create islands like China does, islands for cultivating organically grown crops in huge greenhouses or vertical warehouses, and also space for food prep facilities, all close to the city for direct, rapid distribution? Singapore I think is very sunny, so all could be solar powered, and wind too. Some Australian scientists devised a solar panel the size of a paperback novel that creates the same power as the larger conventional panels. The islands could also be close to the city for direct and rapid distribution. I think it would be difficult to turn the general population into urban farmers and best managed by professional agriculturalists and logistic experts. Only my amateur view.

靠近海洋的新加坡能否可以像中国一样建造岛屿,在巨大的温室或垂直仓库中种植有机作物,以及食品准备设施的空间,所有这些都靠近城市可以进行直接、快速的分配?我认为新加坡阳光充足,所以都可以使用太阳能,也可以使用风能。一些澳大利亚科学家设计了一种太阳能电池板,其大小与一本平装小说一样大,可产生与较大的传统电池板相同的功率。这些岛屿也可以靠近城市,以便直接快速配送。我认为很难将普通人转变为城市农民,要需由专业的农业家和物流专家进行最佳管理。只是我的业余观点。
Nicolas Bertin
You can compete with cheaper imports because people like home made products. However, if your home made products are some rubbish hydroponic veggies, then it's not worth paying more... You wanna pay more for something grown in your local area, IN THE GROUND. Not artificially grown like it's a sci-fi movie. So unless they find a solution, and actually grow the proper way, it's doomed in my opinion. As a consumer, I prefer veggies grown in France, but if it's hydroponic, I'm not buying it. I would rather buy an organic veggie from Spain or Italy, or simply grow it myself, in my community garden, in the ground.Building skyscrapers and putting some pots on top isn't farming. You need to import the soil, the fertilizers, and plants are so weaker in this, coz there's barely any soil life, which is the basis for any plant health. I've grown veggies in pots. It works, but the smallest drought, or wet season, and they get sick so fast, despite sufficient water and nutrients, and attract all kinds of pests...

您可以与更便宜的进口产品竞争,因为人们喜欢自制产品。但是,如果您的自制产品是一些垃圾水培蔬菜,那么花更多钱就不值得了……您想为当地种植的东西支付更多费用,在地面上。不像科幻电影那样人工种植。因此,除非他们找到解决方案,并真正以正确的方式发展,否则在我看来注定是失败的。作为消费者,我更喜欢法国种植的蔬菜,但如果是水培的,我不会购买。我宁愿从西班牙或意大利购买有机蔬菜,或者干脆自己种,在我的社区花园里,在地上。建造摩天大楼并在上面放一些花盆那不是农业。你需要进口土壤,肥料,植物在这方面非常脆弱,因为几乎没有任何土壤,这是任何植物健康的基础。我在花盆里种过蔬菜。它有效,但(长得)很小,在干旱或雨季里,尽管有足够的水和 养分,而且吸引了各种害虫……