《活死人军团》影评
Review of Army of the Dead
2021-06-05
偷吃月亮的狗
10899
0
2
收藏
纠错&举报
译文简介
网友:我从《活死人军团》这部电影中所学到的,我把自己的观点列成了一张清单,它们很有趣!这部电影总归有点娱乐性,但也(大部分)很烦人......
正文翻译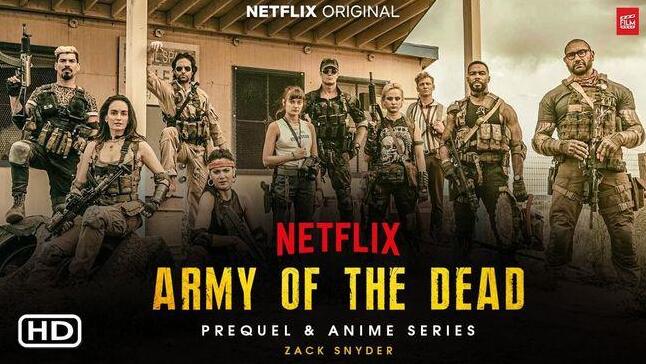 Review of Army of the Dead
《活死人军团》影评
评论翻译
I miss these lists, they were fun!
我把自己的观点列成了一张清单,它们很有趣!
This movie was somewhat entertaining but also (and mostly) annoying:
这部电影总归有点娱乐性,但也(大部分)很烦人:
Spoilers, and in random order, enjoy:
以下内容可能有些剧透,请根据需求选择是否阅读
2: The more people talk about a nuke coming, and time running out, the more relaxed they will feel and the slower they will move.
人们谈论的越多,时间就越短,他们就越放松,行动也就越慢。
3: If a nuke is on the way and a helicopter comes to rescue you, you must still wait for the pilot to deliver a speech and give you permission to get on board, before moving at all.
4.如果在核弹发射之前,一架直升机来救你,你必须等到飞行员发表讲话,允许你登上飞机后才能行动。
6: The Military generally needs their orders given 2-3 times before reacting, and they will then react very slowly and with seemingly no training.
6. 军方通常需要收到2-3次命令后才会做出反应,然后他们的反应会非常缓慢,而且似乎没有受过任何训练。
7: Having dark skin protects you from massive nuclear radiation in the same way it protects you better from the UV rays from the sun, compared to a very pale person.
7. 与皮肤白皙的人相比,黑皮肤能更好地保护你免受核辐射的伤害,就像黑皮肤能更好地保护你免受太阳紫外线的伤害一样。
8: A young woman with no military training will have trouble shooting a zombie in the head at point blank range but can hit 8 running zombies in the head with 8 bullets, from a distance.
8. 一个没有受过军事训练的年轻女子在近距离射击僵尸的头部是非常困难的,但她却可以从远处用8颗子弹击中8个正在逃跑的僵尸的头部。
9: A movie can last 2½ hours and still have very little character development.
一场电影能持续两个半小时但是角色发展却没有什么起色
10: People will call a young man "a kid" and make fun of him, because he's the nerdy safe cracker, in spite him having huge biceps and broad shoulders, like we know all nerds generally have in real life.
10. 人们会因一个年轻人是一个书呆子级的保险箱解密员,称他为"小孩",并取笑他,尽管我们知道现实生活中所有的书呆子都拥有巨大的肱二头肌和宽阔的肩膀。
11: Noone will question why a billionaire wants a team to retrieve pocket cash for him.
11.没有人会质疑为什么一个亿万富翁想要一个团队帮他追回现金。
12: A random woman is important to save, except if she gets on a helicopter, then we don't even have to see if she survives or not.
12.一个陌生的女人很重要,但如果她上了直升飞机,我们甚至不需要注意她是否活着。
13: If a billionaire wants a live zombie head for himself, he won't just send a few hunters with a net to retrieve the first zombie they encounter, he will send an entire oblivious team with a mole in it, with a bank heist cover, and hope his mole can come through, because that's more fun, and the first option is too simple.
13. 如果一个亿万富翁想要活僵尸的头为自己而活,他不会只派一些猎人带网去捕捉他们遇到的第一只僵尸,他将派一个整个带有摩尔的团队带上抢劫银行用的面罩,并希望他的摩尔可以通过,因为这是更多的乐趣,第一个选项是太简单了。
14: If 2 people on an elevator sees Zombies when the doors open, they will freeze up completely, because who expects to run into zombies in a city crawling with zombies?
14. 如果电梯门打开时,两个人在电梯里看到了僵尸,他们会完全震惊到一动不动,因为谁会想到在一个满是僵尸的城市里遇到僵尸呢?
15: Custom made hand grenades become fire balls when they explode
15. 定制的手榴弹在爆炸时会变成火球
Why was the Daughter character created in the first place?!
deepkumar-spider24
一开始为什么要创造女儿这个角色?!
The Girl who plays the daughter of Dave does nothing, She probably deserved to die first, & what's with her connection with the random lady called Geetha?!
扮演Dave女儿的那个女孩什么都没做,她第一个死去可能是罪有应得,但是她和那个叫Geetha的女人有什么关系?!
Messy, uninspired waste of time
这部电影混乱,无趣的浪费时间
t-feier23
Unlike the movie, I'll keep it short: I know this is a zombie movie and didnt expect anything but a fun, gory popcorn flick. But oh boy, was I setting myself up for disappointment. The movie is so full of tired cliches, lazy tropes, bad dialogue and plot holes that its basically unwatchable.
与电影不同的是,我将尽量保持简短:我知道这是一部僵尸电影,除了有趣、血腥的爆米花电影外,我没有期望其他任何东西。但是,天哪,我让自己失望了。这部电影充满了陈腐的陈词滥调、慵懒的比喻、糟糕的对话和情节漏洞,基本上不值得一看。
If someone had just taken the time to correct some of the obvious errors and cut that bloated film down to 90 minutes it could have been great entertainment. But whoever was is charge here didnt care and what we got instead is an uninspired mess that just keeps dragging on.
如果有人能花点时间来纠正一些明显的错误,并把这部臃肿的电影缩短到90分钟,它可能会是非常棒的一部娱乐电影。但不管谁是这部电影的负责人,我们最终看到的都是一堆毫无创意的烂摊子。
The sad part is that the movie had some cool ideas and a lot of people clearly put a lot of love into it. The actors are doing the best they can, special and pracitcal effects are cool and so are props and costumes. But that alone cant change the fact that scxt and editing are horrible. To add insult to injury the ending was completly unrewarding and left me feeling tired and annoyed.
可悲的是,这部电影有一些很酷的想法,很多人显然投入了很多爱。演员们尽了最大的努力,特效和实用效果很酷,道具和服装也很酷。但这并不能改变脚本和编辑是都是垃圾的这一可怕的事实。更糟糕的是,结局完全没有对前文的对照,这让我感到十分疲倦和恼怒。
So even if you're just looking for entertainment: Dont watch this movie! Its an insulting waste of time
所以,即使你只是想找点乐子,也不要看这部电影!这简直是在浪费时间
Just Bad
krbodkin24
这电影真的很差
Slow, stupid and a painfully artificial narrow depth of field injected into every single shot. The characters are all abrasive. And the daughter, oh the daughter. I have never had to watch such a spoiled little brat sink a movie so fast.
笨拙,愚蠢和痛苦的人为狭窄的景深注入每一个镜头。每个角色都很粗糙。还有女儿,哦,女儿。我之前从来没看过一个被宠坏的小屁孩这么快就把电影弄得无味。
I generally love all zombie movies but wow... This was so bad.
jonihaipus22
一把来说,我喜欢所有的僵尸电影,但是哇……这部电影太糟糕了。
Comparing Zack's "Dawn of the Dead" and this piece of garbage is like comparing Mona Lisa and my idiot neighbors redheaded 6-year-old stepchilds scribbles.
拿扎克的《活死人黎明》和这垃圾作比较就像拿《蒙娜丽莎》和我那6岁的白痴邻居的红发继子的涂鸦作比较。
Good concept, bad writing, and terrible characters
harrymchall22
一流的概念,二流的写作和三流的角色
Major Spoilers - Everything wrong with this movie
mitchellkendrickwhite19
大剧透:这部电影的所有问题
3) Every shot is a headshot. Even the daughter shoots the main zombie in the head twice from 50 yards. The zombies decide to not bit when they are clearly in biting distance. This basically made the movie boring because you knew the main characters weren't in any danger until a scene was coming to a close.
每一枪都是爆头。就连她女儿也在50码外朝僵尸头领头部开了两枪。僵尸决定不咬当他们而且明显是在咬空气。这绝对上会让电影变得很无聊,因为你知道主角在每一个场景结束前并没有任何危险。
4) They leave the gate wide open when walking into the quarantined area. This killed me. I guess I should have stopped thinking at this point in the movie.
当他们走进隔离区时,却留着大门大开着。这简直杀了我。我想我应该在电影的这一点上停止思考。
5) If the bad dude's plan was just to get the vile of blood, then why not shoot the scout. Take its blood and leave. Tell the group they will get paid and let's go back now. Nope. Betray everyone for no reason (tell them you'll kill the helicopter pilot for no reason) and go for a head of the main chick. Cool.
如果反派的计划只是为了得到邪恶的血,那为什么不杀了侦察员,带走它的血,然后离开。告诉大家他们会拿到钱的,然后我们现在就回去。不,他不这样做。而是毫无理由地背叛所有人(告诉他们你会毫无理由地杀死直升机飞行员),然后去追求女主角的头。酷。
6) Why did the zombies keep some people for a few days? No explanation... just need to keep the mom alive so the girl is justified in ruining everything. Actually.. why would the girl even assume she was alive. What a dumb character.
为什么僵尸要把一些人关几天?不解释……只要让那个妈妈活着那女孩就有理由毁掉一切。其实. .那女孩怎么会以为自己还活着。多么愚蠢的角色。
7) Robot zombies? What? Why? I assume the Mexico City sequel will explain that the government created the alphas to control the others and use the zombies as weapons. But IDK. Cause it seemed like the government wanted zombie blood, which they could have gotten if that was the case. Makes no sense.
机器人僵尸?什么?为什么?我想《墨西哥城》的续集会解释政府创造阿尔法是为了控制其他人,并使用僵尸作为武器。但IDK。因为看起来政府想要僵尸血,如果是这样的话,他们本来可以得到的。毫无意义。
6/10 is generous. Only points given are for... releasing a movie during covid. At least it made me go to the theater.
给六分就已经很慷慨的,给分只是为了……在新冠肺炎期间上映电影。至少让我去电影了。
This movie insults your intelligence - this movie is one giant plothole
aerie12423
这部电影侮辱了你的智商——这部电影是一个巨大的坑
This is a beat for beat, and markedly inferior, Aliens rip off. After Scream and Cabin in the Woods which parodied character stupidity in horror movies, ZL makes sure that each and every character chooses the absolute worst decision possible.
这是一拍接一拍,而且明显低劣,外星人剽窃。在模仿了《惊声尖叫》和《林中小屋》等恐怖电影中的角色的愚蠢之后,扎克确保每个角色都做出了最糟糕的决定。
How do you get out of a vault from the inside? And even if you don't suffocate, won't the immense radiation from the explosion at ground zero kill you near instantly? How can he walk miles and miles in the desert and not die of thirst and somehow find a car? How come he turns into a zombie days to weeks afterwards while everyone else is zombified within minutes?
你怎么从保险库里出来?即使你没有窒息,世贸中心爆炸产生的巨大辐射不会让你瞬间毙命吗?他怎么能在沙漠里走那么多路还不渴死还能找到车呢?为什么他能在几天到几周后才变成僵尸,而其他人在几分钟内就变成僵尸了?
If the entire idea was to get some blood, why did they have to do this entire charade about getting the money? There was another team that died at the first gate, why didn't they just get the blood from a rando zombie and leave? Why didn't the mole just tie up the queen zombie in the first 20 minutes, get blood and leave them to their heist? Even better, the government had the king zombie in custody. Why didn't the government just take the blood then? (since Tanaka appears to be working with the military)
如果所有的想法都是为了得到一些血,为什么他们要为了得到钱而装腔作样?还有一队人死在了第一道门,他们为什么不直接从僵尸身上取血然后离开呢?为什么内鬼不在前20分钟就把僵尸女王绑起来,弄到血,让他们继续抢劫?更妙的是,政府还拘留了僵尸之王。政府为什么不直接抽血呢?(因为田中似乎在为军方工作)
ZL can produce great visuals. His story telling is awful because he has no clue about pacing or plot. Or even consistency.
扎克可以制造出极棒的视觉观感,但是他的故事叙述太差了因为他不知道节奏或情节。甚至一致性。
A truly awful outing for Snyder. Thin dumb plot, bad writing, terrible dialogue, cinematography of someone that doesn't understand depth of field (wide open for everything). Yes you can have fun dumb movies. This one is just dumb.
对扎克来说,这真是一次极其糟糕的作品。空洞的情节,糟糕的写作,糟糕的对话,不懂景深的人的摄影(一切都是开放的)。是的,你可以看愚蠢的电影来取乐。但这部电影仅仅是愚蠢而已。
2.5 hours of plot holes and questions.
amw-3018421
2.5小时的情节漏洞和问题。
If the blood is so valuable - why not just send a team in to capture the queen?! Why mess about with sending multiple teams to fail in the casino?
如果将是女王血这么珍贵,为什么不派一队人去抓女王呢!为什么要在赌场里搞得一团糟?
Zombies exist for one reason - to eat!!! Not to play Simms and create a new Zombie way of life.
僵尸的存在只有一个原因——吃!!而不是玩西姆斯,以及创造一种新的僵尸生活方式。
The film should have followed on from Dawn of The Dead and showed how people were trying to rebuild / coexist / eradicate the Zombies.
这部电影应该是继《活死人黎明》之后,展示人们如何试图重建/共存/根除僵尸的一部电影。
Please don't make a sequel to this film. It was painful
千万别拍续集了,这也太痛苦了。
This movie starts out as a 5 and then 4, 3, 2, 1 in quick succession. What else would you expect from the brilliant mind that brought us Batman vs Superman and Justice League? Plot holes galore. Writing, acting and directing was completely ridiculous. This movie is an insult to the make up artists and set workers who did a great job setting up the scenery for nothing.
这部电影一开始是5分,然后是4分、3分、2分、1分。你还能从那个创造了《蝙蝠侠大战超人》和《正义联盟》的大脑中看到什么?丰富的情节漏洞。写作、表演和导演都是完全荒谬的。这部电影是对化妆师和布景工人的侮辱,他们白做了很好的布景。
The worst from Snyder yet
nadiaafreendiba23
扎克最差的电影
I rated it 2/10 just because of the stunning visuals. There's nothing original about it. Like several well known zombie movies have been mashed together with a heist movie without retaining any greatness of the source material. The daughter who survived,Kate was so annoying. She should be enough for you to dislike this but if not there's more. Wooden acting,choppy camera work,incoherent storyline,no payoff. I wanted to like this so bad because I love Dawn of the Dead but there's nothing to like here.
我给它的评价是2分,仅仅是因为它的视觉效果。它没有什么新意。就像一些著名的僵尸电影被混在一起抢劫电影,却没有保留任何伟大的原始材料。活下来的女儿凯特太烦人了。她应该足够让你不喜欢这部电影,但如果这还不够,那还有更多。呆板的表演,不稳定的镜头,不连贯的故事情节,没有回报。我很想喜欢这部电影,因为我喜欢《死亡黎明》但这里没什么好喜欢的。
***Possible mild spoilers ahead ***I had such high hopes for this one. The slow-pacing of the first act promises something more than the typical two-dimensional characters, but it never pays off. When the action finally starts, it's just a sequence of events - this happens then that happens then something else happens. None of the character choices are driven by their backstories, they just do things to move things along to the next set piece. The pacing if awful. Just when the action gets up some steam, we pause for extended, quiet dialog scenes that add nothing to the story. Arguably the two most intiguing characters - the zombie leader and his...girlfriend? Are given no backstory at all. The action pieces are shot well enough, but nothing is all that original or memorable. The dialog is cringe worthy in a typical Zack Snyder way. The musical choices try too hard to be clever (Elvis singing "We're caught is a trap...", the Cranberries classic song "Zombie"...) are just too on the nose to be amusing. Overall the movie is waaaay too long. By the time we hit the 2-hour mark (with another half hour to go!) I had given up caring about any of the charavters and just wanted them to drop the nuke already so I could get on with my life. Snyder fanboys will no doubt love it, as is evident by all the 9 and 10 star reviews, but for the rest of us, this one is easily skipped.
***可能会有轻微的剧透***我对这部片子期望很高。第一幕缓慢的节奏的确兑现了了一些比典型的二维角色更多的东西,但它从来没有得到回报。当动作最终开始时,它只是一系列事件——这个发生,那个发生,然后其他事情发生。角色的选择并不是由背景故事所驱动的,他们只是做一些事情去推动事情发展到下一个固定场景。节奏很糟糕。就在动作开始升温的时候,我们会暂停下来,等待冗长、安静的对话场景,这些场景对故事没有任何帮助。可以说是最吸引人的两个角色——僵尸首领和他的……女朋友?没有任何背景故事。动作片拍得足够好,但没有什么是原创或令人难忘的。这个对话是典型的扎克·斯奈德式的。音乐的选择太过巧妙(猫王唱的"我们被抓住了是一个陷阱……",小红莓的经典歌曲"僵尸"……)只是太贴近鼻子而不有趣。总的来说,这部电影太长了。当我们达到2小时的时候(还有半个小时!)我已经放弃了对任何角色的幻想,只想让他们放下核武器,这样我就可以继续我的生活。毫无疑问,扎克的粉丝们会喜欢它,从9星和10星的评论就可以看出,但对于我们其他人来说,这部剧很容易放弃。
Why didn't Mr. Tanaka just give them the combination to the safe?
jaymakak18
田中先生为什么不直接告诉他们保险箱的密码?
As hackneyed and sophomoric as this film is, the stupid never seems to end. Even in the contrived and stilted first sequence of a head on collision where the military personnel transporting the top secret shipping container, are simply too catty to stop yammering at each other like school girls for 1 minute to see the headlights of the oncoming vehicle, continuing to the scene where " I never do leg days" Batista is assembling Ocean's dumbest 11, because he needs the "best" safecracker he can find-for some reason.....
尽管这部电影陈腐幼稚,但它的愚蠢似乎从头到尾。甚至在第一个场景中,运送绝密集装箱的军事人员头部撞向对方,他们就像女学生一样喋喋不休,一分钟都停不下来,只为了看到迎面驶来的车辆的前灯,继续到"我从部浑噩度日"的场景,巴蒂斯塔正在组装Ocean中最笨的11,因为他需要他能找到的"最好的"保险箱窃贼-出于某种原因.....
Exactly why do they need a safecracker, pray tell? Tanaka, the man who hired "I skip all leg days" Batista, must have just wanted to jepardize the entire operation by withholding the damn code to the safe.
他们为什么需要撬保险箱的人,请问?田中,那个雇了巴蒂斯塔的人,肯定是想把保险箱的密码藏起来,甚至危及整个行动。
Finding the flaws in this piece of visual sewage is as challenging as an Easter egg hunt in an empty parking lot.
要找到这片视觉污水中的缺陷,就像在空旷的停车场里寻找复活节彩蛋一样毫无难度。
Army of the Dead Plot.
I have canceled my netflix subscxtion after watching this.
max_11122 May 2021
《活死人军团》的情节
看完这个之后,我取消了网飞的订阅。
The worst movie of all time. I don't know why netflix make movies anymore. After 'I care alot' I lost all hope in netflix. Now coming towards this movie, i was really hyped by all the zombie genre and thought that maybe this will be another Day of the dead. But oh boy i was so wrong. This is the worst movie ever and not to mention they ruined the zombie genre so effectively. Major spoilers ahead:
史上最烂的电影。我不知道网飞为什么还要接着拍电影。在《我很在乎》之后,我对网飞的电影失去了所有的希望。现在来看这部电影,我真的可能被其他的僵尸电影吸引了,我想也许这将是另一个《死亡之日》。但是,天啊,我错了。这是史上最烂的电影,更别说他们把僵尸类型彻底毁了。主要的剧透:
How come the soldiers didn't saw the headlights of coming car before the head on collision. Any sane person specially a tactical trained professional would have spotted the car a mile before.
在迎头相撞之前,士兵们怎么没有看到驶来的汽车的前灯呢?任何神志清醒的人,特别是受过战术训练的专业人士,都能早在一英里前就能发现这辆车。
How come the armored military truck worth millions of dollars just simply gave up infront of an old 70's beat up car.
为什么要放弃一辆价值数百万美元的装甲军用卡车而是选择一辆70年代的破旧汽车。
Why did scott just readily accepted the offer of 50 million and didn't demanded more.
为什么斯科特爽快地接受了5000万的报价而没有要求更多。
Why ( a big why) did the boss remained quiet and didn't gave them safe's codes or told them about the booby traps.
为什么(一个很大的疑问)老板保持沉默,没有给他们保险箱的密码,也没有告诉他们陷阱的存在。
How were they so sure that the helicopter would still fly and didn't cared much about the weight of the money and the passengers.
When the first girl died, why she didn't told her boyfriend about the traitor. There was plenty of time for her to spit it out and save many lives.
他们怎么能这么肯定直升机还能飞,而对于钱和乘客的重量毫不在意呢?
Why on earth the boss's man ( with the queen's head) went outside the building and not on the roof to the helicopter.
为什么老板的人(带着女王的头)跑出了大楼,而不上楼顶上直升机。
Why didn't the team had not one single silencer with them. It would be so easy to just kill the zombie tiger, the queen, the other alpha zombie in the beginning and get over with it. And that too without alxing anyone. Plus it could had been so easy for them to continue without offering the bait. (which was insane btw)
为什么整个团队都没有一个消音器。本来在一开始杀死僵尸虎、僵尸女王和另一个僵尸阿尔法应该是很容易的。而且也没有惊动任何人。另外,他们可以很容易地继续下去,而不提供诱饵。(顺便说一句,这太疯狂了)
*The worst mercenaries ever
史上最糟糕的雇佣兵
* The daughter character was so dumb and annoying. Minus her in the movie and it would be a much better movie.
女儿这个角色又笨又烦人。如果电影里没有她,那电影就好多了。
* The list goes on and on and on.
这个清单似乎永远不会停止
A wasted opportunity in my opinion. With this budget they could had made a superb movie. Please Please Please netflix stop making anymore movies. I am also canceling my netflix subscxtion after watching this movie. Shame.
在我看来,这就是个浪费。以这样的预算,他们本可以拍一部极好的电影。求求你,求求你,网飞,别再拍电影了。看完这部电影后,我也要取消订阅网飞了。真实耻辱。
A number of reviewers have already taken shots at the huge plot holes and ridiculous setup of this movie; I share in both their criticism and disappointment. If you happen to care about such lofty things like coherent storytelling or character development, I'd wait to watch this lazy entry into the zombie genre until you're either drunk or stoned to overlook its many problems.
许多影评人已经开始抨击这部电影巨大的情节漏洞和荒谬的设置;他们的批评和失望我都有同感。如果你碰巧关心诸如连贯的故事情节或角色发展等崇高的事情,我会等到你酩酊大醉或注意到它的诸多问题时再看他的问题。
The fact that more movie goers aren't outraged by the significant and apparently permanent drop in quality/intelligence of most these blockbuster Hollywood productions is what bewilders me. Apparently, just shoveling an old retread of a story into a production-line CGI machine is enough to satisfy most of today's audience, who blithely flock to, praise, and subsidize whatever vapid POS comes out. Are super hero action scenes really all we're after anymore? Isn't it time to demand more for your entertainment dollar?
大多数好莱坞大片的质量和智力明显下降这一事实,却没有让更多的电影观众感到愤怒,这让我感到困惑。显然,仅仅是把一个老故事的翻版扔进一台生产线上的CGI机器就足以满足今天的大多数观众,不管出现什么乏味的POS,他们都会兴高采烈地蜂拥而至,赞美并资助。超级英雄的动作场面真的是我们追求的全部吗?难道现在不是时候为你的娱乐收入要求更多了?
Let's suck the fun out of a Zombie movie by adding hateful characters and awful plotline.
lukerlemieux24
这部电影添加可憎的角色和糟糕的情节来破坏了僵尸电影的乐趣。
With the exception of Tig Notaro's character, I couldn't wait each of them to go.
除了Tig Notaro所饰演的角色,我迫不及待地想让他们每个人都赶快死去。
The second big problem is the storyline splits off in several incomprehensible arcs which repeatedly breaks the flow of the story. The father reconnecting with his daughter arc is just silly and predictable.
第二个大问题是,故事情节分裂成几个难以理解的弧线,并且不断破坏故事的连贯性。父亲与女儿重新建立联系是愚蠢和可预测的。
The action sequences are pretty good, though some are a little over the top, but enjoyable to watch. The Zombies themselves have are well done but they get lost in the mishmash of the story arcs. And the ending was pretty good though not great.
动作场面很不错,虽然有些有点夸张,但看起来很有趣。僵尸本身做得很好,但他们迷失在混乱的故事弧。结局还不错,虽然不是很好。
In conclusion, this isn't a bad film, I just wished that Zack would have trimmed down some of the subplots and given us more Zombie action.
总之,这不是一部糟糕的电影,我只是希望扎克能删减一些次要情节,给我们更多的僵尸动作电影。
Utter, utter garabage.
完完全全彻底的垃圾
Main characters consistently stop to discuss how they love each other while they face immanent death from the zombies. A cringingly bad zombie love story between the 2 main zombie characters who have a zombie baby. The rest of the zombies appear to be students recruited from a dance academy who jump onto things, hiss, wave their arms about and look like they are about to break into a song and dance number.....just really, really bad, boring, waste of time of a film.
当他们面对僵尸带来的死亡威胁时,主角们总是停下来讨论他们是如何相爱的。两个有用一个僵尸宝宝的僵尸主角之间的令人震惊的爱情故事。其余的僵尸似乎是从舞蹈学院招募来的学生,他们跳上东西,发出嘶嘶声,挥舞手臂,看起来就像他们即将进入一个歌舞节目.....非常非常糟糕,无聊,浪费时间的电影。
Don't bother wasting your time wating it.
千万别浪费时间看这个电影
10?! Are you out of your mind
therealjustjakenit15
10分?你疯了吗?
My biggest problem are with the characters. There are way too many it reminded me a lot of suicide squad the way they introduced them in this montage. They literally hire one of the team members because he made a YouTube video shooting zombies.. like really.. aren't there some more soldiers you know? But seriously who cares who makes it out. And you made a 2.5 hour movie with a story that could have been told in 70min and couldn't figure out how to make us care about any of the characters.
我最大的问题在于角色。他们中有很多人让我想起了很多《自杀小队》中用蒙太奇的方式来介绍他们。他们雇佣了一名团队成员,只因为他在YouTube上制作了一段射击僵尸的视频。看起来还挺逼真的. .但是你不是还认识一些士兵吗?但说真的,没有谁在乎他们是否能成功。你拍了一部2.5小时的电影,故事本来可以在70分钟内讲完,却不知道如何让我们关心其中的任何一个角色。
I could go on and on. I used to love zombie movies (original Dawn one of my favorite movies.. Zack remake was..) but they have been reduced to nothing more that pointless monster movies that are a shell of what they once were with absolutely nothing to say other than here's some gore! If that's your thing then that's your thing but I kind of look for more in my movies.
我可以一直说下去。我曾经很喜欢僵尸电影(原版《黎明》是我最喜欢的电影之一..但是扎克的重拍是…)但是他们已经堕落到了没有更多的毫无意义的怪物电影,只是一个外壳,他们曾经是绝对没有什么可挑剔,除了一些流血场景!如果那是你的风格,那就是你的风格,但我想在我的电影里找到更多。